The Swiss company Gresso has made a name for itself over the years in the realm of luxury technology. Its line of premium phones and accessories has now grown bigger with the addition of Gresso Regal Black Edition.
The premium device has a metal body, crafted out of five solid titanium plates and manually polished for the best possible combination of light-weight construction and durability. With a thickness of only 8.8mm Gresso boast that their new handset is the slimmest smartphone on the luxury market today.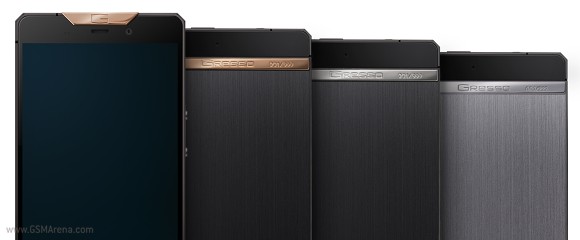 The Regal Black Edition will be a limited offer and only 999 pieces will be produced. Each of them will have an 18 karat gold insert on its back panel, featuring the unit number, as well as the total number of devices in existence, for convenience when referencing exclusivity, we suppose. The company even offers you the option to choose your own number during the purchase. The rest of the back is coated with PVD for an exquisite black finish.
As far as hardware on the device goes it features a 5-inch Full HD display, a 1.5 GHz quad-core processor, with no specific manufacturer or model cited, as well as 2GB of RAM and 32GB on-board storage. The handset has two cameras - 13MP main and 5MP front-facing and will run Android. It is offered in three variants - the "budget" Regal R1, priced at $3,000, which comes with a titanium insert plate and no PVD coating. And the Regal R2 and R3, both costing $5,000 with a white and yellow gold logos and plates respectively.
Each of the devices is manually assembled by a single craftsman and with only 999 available you should definitely hurry if you want to catch one of the 9 repeating digit ones, which we all know are the ones that truly send out a definite social status message.
K
Total effing lie. Please don't spread false rumors about the other brands which you are jealous of just because you like your own device. I've never ever seen lags in any video on any device as far as I know. Not on Nokia, Not on Samsung, Not on iPho...
K
If you think Hyundai has longer spec list than Ferrari, I feel you have a lot more to learn about cars my friend. :) I've been seeing same cars comparing comments by Apple fans since a very long time? Who comes up with such stupid theory? Compar...
D
U$ 3000 for a Quad 1.5ghz, AOSP and no LTE? HAHAHAHAHAHA Point 2: Isn't that Wallpaper the same as HTC One (M7)?