Another luxury line of mobiles is on its way, presented this time by the less known Gresso company. The collection dubbed Avantgarde consists of the Gresso Luna and Gresso Sol mobiles, crafted from a mix of precious and rare materials. Truly unique is the fact that these phones run on Windows Mobile 6 Standard OS, which was never used in other known luxury mobiles on the market.
The Avantgarde collection handsets are hand-crafted from gold, African Blackwood, and titanium. Attention has been paid to the detail and materials - sapphire crystal glass surrounds the QVGA TFT 65k color display, the keypad symbols come laser-cut, the front and back panels are made of scratch-resistant hand-polished titanium, while the bodies of the handset are made of the exotic African Blackwood (that alone is enough to start an environmentalist campaign). Other notable features include the magnetic lock of the battery cover and the use of gold for the keys and screws.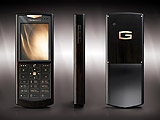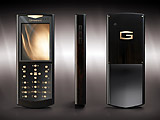 Gresso Avantgarde Luna and Gresso Avantgarde Sol
The Gresso Avantgarde Luna has an extremely flat, laser cut keypad with only the navigation keys being gold. It weighs 128 g and has tri-band GSM/GPRS support. The handset sports most of the modern must-have features such as a 2 megapixel camera, Bluetooth, and a memory card slot. The expected retail price of the Gresso Avantgarde Luna is 5000 EUR.
The Gresso Avantgarde Sol has a full keypad made of gold and weighs a tad more - 138 g. Much like the Gresso Luna it has a thickness of 14 mm and is functionally identical in every other aspect. The expected retail price of the Gresso Avantgarde Sol is 7000 EUR.
The Russian-based Gresso company will make the handset available on the market in the Q4 2007.
A
This phone is a luxury piece, it is an accessory. u cant compare it to a nokia phone, it is like comparing a Seiko or a Casio to a Rolex. It is all about luxury and self satisfaction. Great looking phone!!! Good job, props to a designer
?
when r u people finally going 2 realise that it is not for the cam or whatever? i always get confused when people say that its too expensive and it doesn't EVEN HAVE A FLASH CARD SLOT!!!! its all about prestige! anyway Russian luxury-phone market is...
?
Look more like a Lada instead of a Ferrari..........
ADVERTISEMENTS