GoldVish's Le Million Piece Unique isn't the only mobile phone with a seven digit price tag out there anymore. It has just been joined by the Gresso Luxor Las Vegas Jackpot, which matches its price tag of 1 million US dollars.
Gresso is known for its incredibly expensive handsets but today the company reached a whole new level by announcing the Luxor Las Vegas Jackpot. And it is a jackpot alright: the phone is priced at 1 000 000 US dollars and only three units of it will be produced (each with a number engraved on its back). Just like Le Million which was announced several years ago.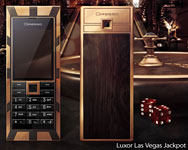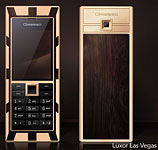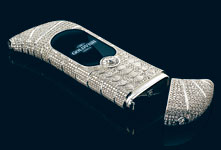 Gresso Luxor Las Vegas Jackpot • Gresso Luxor Las Vegas • GoldVish Le Million Piece Unique
What makes it so expensive are the black diamonds (totaling the whooping 45.5 K) covering its front while and the 200-year old African blackwood used for its back. And that 12-mm thin frame is made of 180 grams of gold.
The Gresso Luxor Las Vegas Jackpot keypad consists of 17 manually polished and laser etched sapphires weighing 32 K.
If you can't afford the Las Vegas Jackpot (and let's face it - you can't) there is a cheaper alternative that you might want to consider. Enter the second Gresso announcement for today - the Gresso Luxor Las Vegas. Made of solid gold and some 200-year old African blackwood, it gets rid of all the diamonds and brings the price down to "only" 20 000 US dollars.
The Gresso Las Vegas collection will become available by the end of the month.
G
I have 4 wives and if only have been manufactured 3 one of them would be without celular, would not be fair ...
S
Expensive??????Who do i contact to pick up all three....My maids could use these cheap phones....
ADVERTISEMENTS