Gresso has announced a couple of new additions to their Avantgarde series. Besides Luna and Sol models, the series crafted from a mix of precious and rare materials will now be joined by the Black Diamonds collection. The collection will comprise of the Black Diamonds and the Royal Black Diamonds models.
The high-roller Gresso Avantgarde collection handsets are hand-crafted from the exotic African Blackwood. Gold elements cover the mobiles from head to toe. The back panel is made out of stainless steel but is covered by scratch-resistant hand-polished titanium. Attention has been paid to every detail and all the materials used - sapphire crystal glass surrounds the QVGA TFT 65K color display while the titanium-covered keypad comes with laser-cut Roman numerals. Other notable features include the magnetic lock of the battery cover and the use of gold for the screws and some of the keys.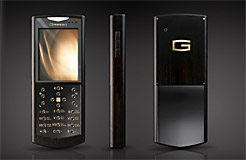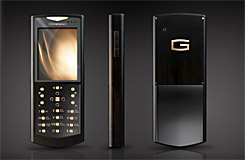 Gresso Royal Black Diamonds • Gresso Black Diamonds
Much like the last two Avantgarde mobiles - the Luna and the Sol, the two Black Diamonds mobiles are truly unique with the Windows Mobile 6 Standard OS they were running on - something never before seen in the world of luxury mobiles.
The Gresso Avantgarde Royal Black Diamonds mobile has a full keypad made of gold - all 23 keys are encased with black diamonds. Since those diamonds are extremely rare only a limited series of 50 mobiles will be ever produced. The Gresso Avantgarde Royal Black Diamonds will be selling at EUR 30 000.
The Gresso Avantgarde Black Diamonds mobile will feature only four black diamonds. The rest of the keys are made out of gold only. The expected retail price of the Gresso Avantgarde Black Diamonds is EUR 9000.
Both mobiles have tri-band GSM/GPRS support and 2 megapixel cameras. The Russian-based Gresso company will make the handset available as soon as this December.
h
such kind of phones should also be in access of common people,shouldn't it?
?
what the point having a mobile for that price when u get a sony ericsson or nokia or lg so on they are normal they add some thing worth useing like camera or tv or anything else, i seen one othe the other ones in hong kong it was $136000.00 ...
R
Are these people having a bubble, do they think everybody is rich and dumb as rap star to buy this phone!?
ADVERTISEMENTS