A manufacturer of exclusive luxurious GSM handsets, Gresso once again managed to provide a feast for the eye with their latest Avantgarde White Diamonds collection. The ultra expensive cell phones are not for every pocket but they offer unsurpassed originality of design and materials.
We have followed the announcement of the Gresso Luna and Sol mobiles last year, followed by the Black Diamonds collection and finally topped by the Luna and Sol Steel collection which was only recently unveiled in March 2008.
The Russian-based maker Gresso has once again set the bar high with their latest exquisite Avantgarde White Diamonds Collection. The new collection includes two new mobiles called Gresso White Diamonds and Gresso Royal White Diamonds.
The new White Diamonds Collection features the same exquisite design features found in the previous models of the manufacturer - their hand-assembled body panels are made out of 200-year old African blackwood, the keyboards have a base plate made of titanium, their stainless steel battery cover has a magnetic lock plus leather and gold decoration.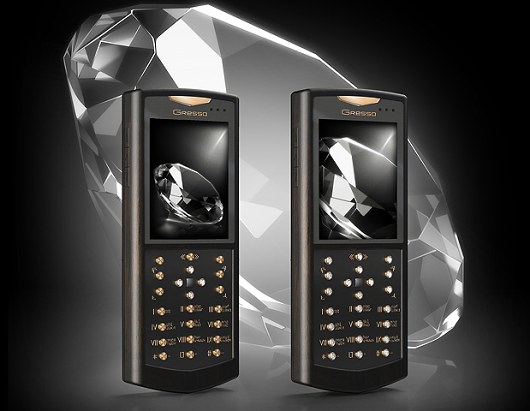 The displays of the two new Gresso handsets are covered by 42K sapphire crystal glass, their keys are made out of 18K gold and as a signature feature - all the numbers on the keypad are laser-cut in Roman style.
The Gresso Royal White Diamonds is the more expensive one of the two. Only 200 units will be produced making it a limited edition handset (though we highly doubt that any of the Gresso ultra expensive models enters mass production). All of its 23 gold keys are crowned with a total of 2.53K of white diamonds. It will be priced at 33000 euro.
The Gresso White Diamond handset has only its navigation keys encrusted with white diamonds. Therefore it would get the more mundane price of 9000 euro.
All Gresso handsets feature a tri-band GSM support, a 65K color TFT display QVGA resolution, a microSD memory card slot and a 2 megapixel camera. They all run on Windows Mobile 6 Standard. The new White Diamonds handsets measure at 119,5 x 48 x 14 mm.
The Gresso Avantgarde White Diamonds collection will be presented at JCK Las Vegas Show, the leading jewellery fair in the USA, that will take place from May 30 to June 3, 2008.
t
hey guys this fone is copying the vertu brand dont ya think ,,l,, 2 gresso
C
I find this phone is kind of cool but it is a phone you'll have to keep in your pocket because of what it is made up of i do hope it does not get scratched easily
r
well at least they came with a microSD slot and 2-megapixel camera and at least they have windows mobile interface not some tiresome and boring interface resembling series 40 Nokias. But the design is not that good if u look at it and i think theirs ...
ADVERTISEMENTS