If you were just looking to purchase a $50,000 non-smartphone, Gresso has just the thing for you. The company added another member to lineup of finely crafted mobiles with outrageous price tags with the introduction of Grand Premier.
Gresso Grand Premier has its frame, buttons and D-pad made of solid gold, while most of the front and the back of the phone is made from sapphire crystal. The total amount of gold used for each unit is 150 g, while the sapphire crystal weighs in at 138.5 carats. The numbers and letters above each of the Gresso Grand Premier keys have been engraved with a laser.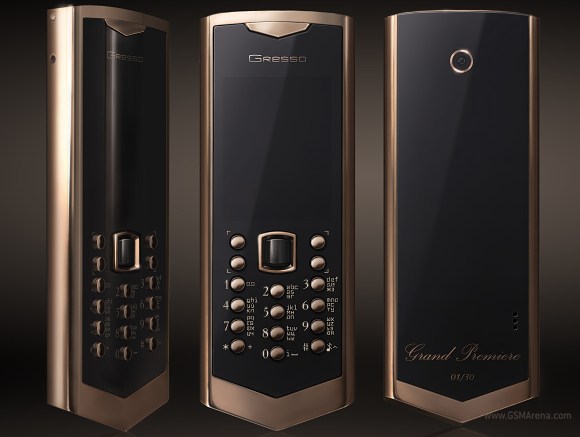 And while the Grand Premier makes up for an impressive jewel, there's little that the phone can offer to tech freaks. It runs the S40 featurephone UI (which the company mistakenly lists as Symbian S40), which is normally only used on phones with a sub-200Є price tag.
The Gresso Grand Premier measures 121x46x12 mm (which the manufacturer says is as thin as it gets in the class) and weighs 190 grams.
The featurephone will go on sale before the end of the month with an estimated price tag of $50,000. Just 50 units will be made, so you better hurry up if you want to get your hands on one.
S
The price is really outrageous!
S
Why is this forum worried about other people's pocket is beyond me. The opninions are totally One Sided.....seldom making any sense at all. There is no shortage of MR. MONEY BAGS in this world...so just because you dont have that cash to blow doesn't...
ADVERTISEMENTS