Yesterday, Motorola announced their Android 2.0 CDMA phone - the Motorola DROID. GSM users have nothing to worry about as the GSM version of the phone already passed through FCC testing and Vietnamese forum Tinhte.com has posted a live video and photos of it.
We've already seen the DROID in action - yesterday when Google announced their Google Maps Navigation SatNav solution, they used the CDMA-based Motorola DROID to do the demonstration. To put it simply, the Motorola DROID is to the original Android phone, the G1, what a Ferrari is to a Ford Model T.
The new and improved Android v2.0 Eclair is bringing plenty of usability updates and the ARM Cortex A8 CPU clocked at 550MHz should give a noticeable bump in speed. Despite being similar in clock speed to the 528MHz CPU in the G1, the Cortex A8 architecture delivers more performance per clock.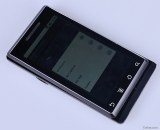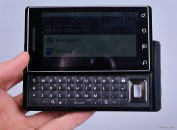 Photos of the GSM version of the Motorola DROID
So far, the hardware specs for the GSM version of the DROID are unconfirmed but they should be pretty close to the CDMA version. That means a 3.7" TFT display with 480 x 854 pixels resolution, capacitive touchscreen technology (with multitouch support as you can see in the video), a 5MP camera with autofocus and dual-LED flash (and the much improved camera interface of the new OS), D1@24fps video recording.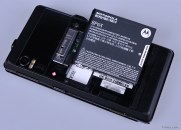 Android phones have come a long way since the beginning
The wireless connectivity is excellent - speedy HSDPA (10.2Mbps) and HSUPA (5.76Mbps), Bluetooth 2.0 (with file transfer), Wi-Fi and A-GPS (with Google Maps Navigation). The Motorola DROID offers roomy 16GB internal memory (either on a card or embedded).
Here's the video we promised:
There's a clock on Verizon's website, ticking away the seconds before the launch of the CDMA version of the Motorola DROID (or given the overall look of the page - the time before Skynet becomes self-aware).
Source (Google Translate link)
The translation is imperfect: it says "Samsung" instead of "Motorola" - just ignore that.
s
V3 crap? I have a 1st gen V3 that still works great. Maybe for kiddies that hammer rocks with the phone it's crap, but for normal users it's the best phone they have ever had.
?
So currently i'm on AT&T. I'm sick of the service issues I have in this area, so I'm going back to verizon. The droid seems like an obvious choice. I love my techy toys and sharing info / playing with new ideas on boards like this, so I ju...
1
V3 being crap? Look at the almighty brand, who tried to copy V3 and made the N76.... And how about the sales of V3 vs. N76? Can you find any "new" N76 on the streets right now? Maybe to your surprise, V3 is still being sold in US as pre-paid ...
ADVERTISEMENTS