Last week we gave away a 64GB OnePlus 2 to one of our lucky readers and the initiative was met with an amazingly positive response. So, together with our partners at HonorBuy, we decided to keep the ball, or rather, the phones rolling.
If you missed the last giveaway, here is a brand new one for you, this time for the Lenovo ZUK Z1. This nicely-specked, budget-friendly phone is already enjoying a lot of positive feedback and we can definitely concur, after having recently reviewed it. We are excited that one of you will get to enjoy it as a free gift!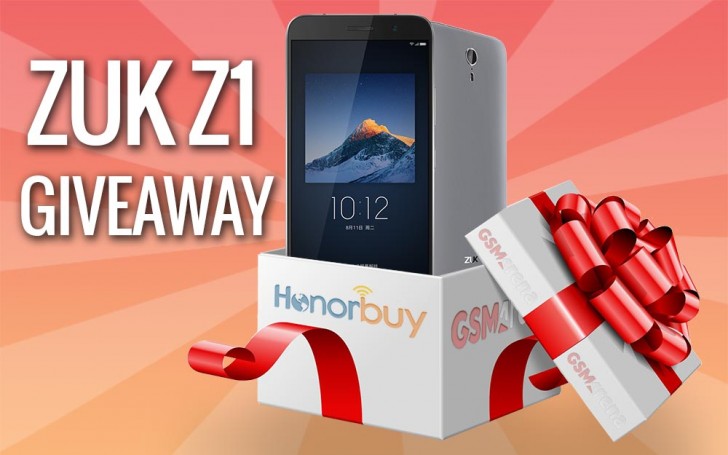 The Lenovo ZUK Z1 unit has been provided by HonorBuy, who occasionally supply us with phones for use in our reviews.

There are several ways to enter the giveaway - check out the list below.
How to enter
Share the news about the giveaway via your Twitter account (1 entry). You can do that once per day and each tweet will grant you a new entry.
Set an avatar for your GSMArena account (2 entries). You need to log-in on our site using either Facebook or Google+ and then visit your account page and set an avatar or Gravatar. Important: to claim the entries you only need to enter your nickname, but if we detect that you did it without setting an avatar you will be disqualified. Also, if you already have an avatar or Gravatar, you can just claim the reward - there's no need to change it.
Refer friends for extra entries (1 entry per referred friend).
Follow us on Twitter (1 entry). Again, if you are already following us there's no need to do anything - just claim the reward.
Visit Honorbuy's website (1 entry). Check out the website of the Giveaway sponsors.
Good luck, everyone!
Lenovo ZUK Z1
Contest rules
The submission and winner drawing process is operated by our partners from Gleam.
The contest is open to people 18 or older from all countries
We may be unable to ship the prize to your country - in that case you will be compensated with an online gift card of equal value to the prize.
We cannot be held responsible for lost shipments or items damaged during shipping
Any duties and import taxes that you may incur are the sole responsibility of the winner.
Only 1 registration per person - you can collect multiple entries, but don't register more than one email and then claim entries with them. If we detect multiple registrations by the same person they will be disqualified.
GSMArena reserves all rights to make changes to the giveaway in case of unforeseeable circumstances
The prize will be shipped directly from our partners from Honorbuy.
Winner will be requested to take a photo with the prize upon receiving it for our winner gallery.
n
I shall get a Lenovo Zuk z1 after my 10th grade I love this phone i love zuk phone gvn
S
I shall get a Lenovo Zuk z1 after my 10th grade I love this phone
N
i love this phone it is the best phone for this price . i would love to ge one
ADVERTISEMENTS