We are looking to add quality to our team by hiring writers based in New York. You should be available to attend events in New York City so we are searching for people living within reasonable commuting distance.
If you are passionate about mobile technology - anything from smartwatches through tablets to smartphones (and even digital cameras) - and you're good at writing compelling content - you may as well be up to the task.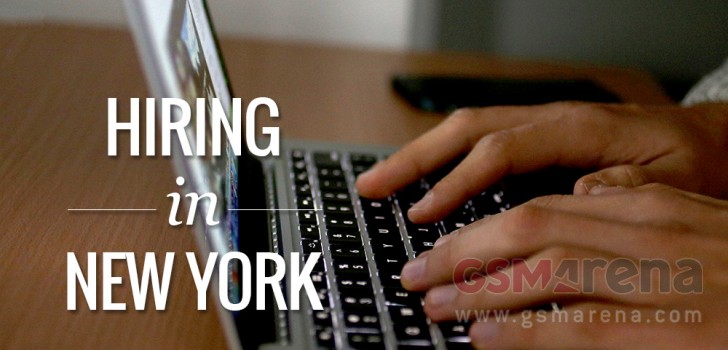 You'd be expected to actively contribute fresh content to GSMArena.com. That includes reviewing smartphones, writing news and blog articles and doing research on technology topics.
We're looking for a creative, knowledgeable and self-driven individual to help us better cover the stuff going on while we're after-hours here in Europe. This means you will (eventually) have more freedom to choose what to write about and how to write about it, but it also means you'll have more responsibility.
You will be working from your own place. This means you should definitely have your own computer and a reliable, fast Internet connection.
We expect the following minimum:
Previous experience in writing for an online or print publication and demonstrable writing skills (we value a clear, concise and engaging style)
Profound knowledge of mobile phones and tablets
Image and video editing skills
Advanced computer skills
Attention to detail and respect of deadlines
Web research skills
We would favor candidates who:
Have experience producing video content for YouTube or similar platforms
Are willing to work during the weekends
Have basic knowledge of HTML coding
We offer:
Competitive pay
Being part of a globally renowned, industry-leading online media company
Flexible working hours
To apply, please send us your resume (pdf or doc) describing previous occupations, interests and detailed contacts including an IM address at info@gsmarena.com with the following Subject: JOB-NY. We'll only consider US-based candidates, please do not apply if you reside elsewhere.
Please make sure to include samples of your writing as either links to online sources or attached as a file (pdf or doc). If you don't have anything at hand, just pick some tech topics from the past week and prepare two short news articles of about 200 words each.
We would also welcome a short but meaningful cover letter describing what got you interested and why you'd like to work for us.
We'd love to hear from everybody but we'll only contact the short-listed candidates.
About GSMArena.com
GSMArena.com is a leading information source on mobile phones providing a world-wide community with up-to-date specifications and news scoops, as well as detailed cell phone reviews. With over 300 million pages served per month, GSMArena.com is an industry trend-setter and has a thriving and active user community, which is rarely satisfied with less than the best. Developing new areas of content and constantly adding new features is a key area of focus. Through our commitment to excellence our brand has become a household name among mobile phone enthusiasts.
J
I love to do job in usa but m not eligible for this...
e
that's actually cool i'll be happy to apply for that post
?
They want reviewer based in New York. That way they don't need to ship product all the way to Gsmarena in Europe. Most product are released in US first anyway. Those new reviwer could attend Apple keynote or unveiling events and something like that. ...