Battery tests are among the most popular features in our regular reviews and something we know means a lot to you guys when choosing your next phone. However, since our reviews or blog posts are about a specific device, there is no way to put our numbers in context and compare the battery life across all phones. What's more, the endurance rating is based on a standardized formula, which might differ from how you actually use your device. We listened to all the valuable feedback you gave us and are now ready to do something about it.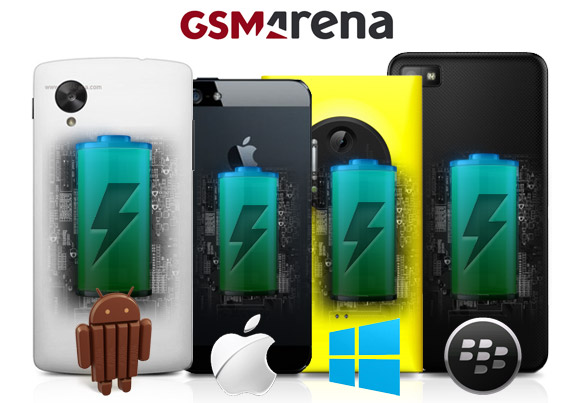 To meaningfully compare battery life across devices, we're releasing a brand new tool, the Battery life test table. It contains all the data from the tests we've ran so far and lets you sort the phones by their overall endurance rating or one of the three test components – call time, web browsing and video playback.
The endurance rating is based on the assumption you do an hour of each every day. But what if you don't watch videos and browse the web for three hours? Well, now you can have a custom rating based on your actual usage pattern.
The tool lets you set custom times for browsing the web, talking and watching video so they reflect how you actually use your device. The resulting endurance rating will stand for how long you can expect the phone you're interested in to last between charges.
Once you've set your preferred times, these values will be remembered and used the next time you visit the table.
The specification page of each phone now features a battery rating too – click on it for a detailed breakdown of the battery life. Click on the Your rating box to set your own custom times. If you've already set them in the Battery life test table, the values will be loaded automatically.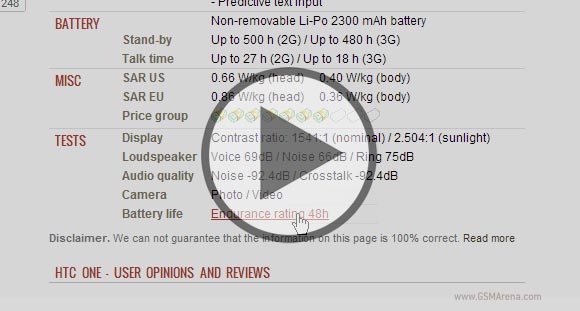 Note that we're just launching this tool and there might be issues – if you find anything wrong, feel free to leave a comment under this news article, we'll be keeping an eye on it! Also, note that old browsers (Internet Explorer 9 and older) don't work well with the tool.
S
OMG, there is absolutely nothing wrong with striking up a conversation in a forum or comment section, despite the protestations of the "Just Google It" crowd. It can, and often does, yield unexpected benefits beyond what "just Googling" would, as pe...
v
Hi, couldn't see this tools output on Fitefox for android v38.0.5 on Redmi 1S. Keep getting error that the said page doesn't exist.
D
I can't get to the battery life table page. It says the page isn't found. Anyone facing the same issue?