Just by reading our articles you may or may not have noticed that we, the GSMArena team members, are as passionate about other high-tech stuff as we are about cellphones. Well, we are...
So starting from today, we will materialize our interest in various high-tech gadgets into writing and we went for blogging as the most appropriate form of web publishing to do that.
Our personal passions and interests stretch way beyond mobile phones. Whether it is digital cameras and DSLRs, computers, laptops, computer hardware, robots or just plain sci-fi movies, you name it, we've probably got it covered.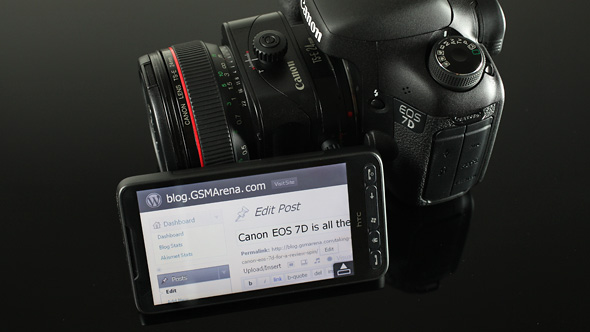 So quite naturally, it occurred to us that perhaps you'd be interested in getting our scoop of the most interesting tech toys of the day (and if you're not, you can always skip it). We hardly miss an announcement or a demo of an exciting new gadget and we thought it's about time we start noting those in writing.
Which gets us to our main point today and that is the announcement of our very own GSMArena tech blog: Geeks at large. Well, before you jump up and say there are already a million of those out there, we'd like to make a few things clear.
First off, it is going to be only a blog - a side project, something our team members do in their spare time driven by their love for gadgets. Our blog is meant to be personal and as such will express our personal opinions about the discussed topics.
Secondly, by having our personal say through the blog, we'd be able to release cellphone news and even coverage that we normally don't provide through GSMArena.com for various reasons (political correctness being one of them).
And finally, besides providing news coverage, the GSMArena blog will give us an opportunity to review other products besides cellphones. We'll even be able to post our research on interesting high-tech topics that don't necessarily have something to do with mobile phones.
The GSMArena blog can also be a place to share some funny stuff we come upon and if you've come to appreciate what our team does in the field of mobile phones, you'd certainly find it interesting to see us covering other things as well.
We've already prepared a bunch of posts during the blog web development. But before you head on and check them out, we'd like to pass on this little disclaimer.
The GSMArena team blog is a place for team members to express their personal opinions. Those don't necessarily coincide with the official GSMArena.com say on the matter.
Well, that's about it. Happy reading!
B
Well done guys. We are very excited about this. We know how passionate you are with new gadgets just like most of your readers. This is a very good move. Cheerio! :)
t
Its awesome dat u guys decide to do this...just great...d news alone made me feel happy...let alone d contents of d blog...\m/
V
UR website rocks..Wish u all the best for ur blog..
ADVERTISEMENTS