Most of our visitors seem to steer clear of our Stats page. Anyway, that's never made us like it less, but today we look at it with pride. Among other things, it provides some insight on the number of info pages we have served. The term "Info pages" excludes all user contributed content, such as comments and opinions, and it doesn't take into account the home page hits we receive.
Today our little hit counter there flipped over the billion mark and we decided to give ourselves a well-deserved pat on the back for geting this far. Currently, we welcome 220 000 unique vistors every day, while the total daily hit count is over two million. That's you and we thank you for coming and returning. We are constantly trying to improve our services, while remaining as objective as possible. A simple testimony is the fact that fans of most major mobile phone brands seem to think we work for the competitors. At the same time, we continue our devotion to supporting one of the most up-to-date specs database for mobile phones.
We have a graph here to show you, that we've snatched from Alexa, the independent web analyses service. It shows our global reach in the last five years on the job. Seems like all the work we've put in, pays back.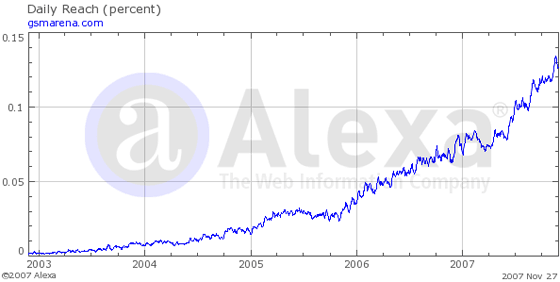 According to Alexa 0.15% of all Internet users visit GSMArena.com daily
It's a good opportunity to thank our loyal audience and remind you of the other rankings on our Stats page. You can find several interesting standings, such as the most popular mobile handsets, mobile phones with the highest user votes, plus you can see how mobile brands line up in terms of popularity.
D
This is a great site.... But one more thing that is missing on this site is the carriers of the phones that you posted. If you have that included it would be the best of all. However, I check everyday this website for my marketing references, news an...
S
Gsmarena up up. Keep up the good work. It provided me more then enough info.
r
hey ill join in awsum stuff guys keep it up
ADVERTISEMENTS