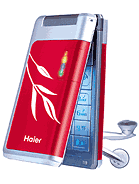 A
This actually looks like a decent phone. I don't see the need of having the ability to take poor quality pictures with my phone.. I don't understand the earbuds though, it doesn't say anything about mp3 capabilities.. and as for the person a few posts away from me, please learn how to spell. One of the rules to post was that it had too be in english. You know who you are. Cheers
A
haier
what the hell r u producing on the name of cell phones shame on u.
L
i cant blv a bewtiful fne lyk dat has no camera???????????????? wat r dae trynah pul?
newaez... aktuali quite gorgeuz!! buh wit no kamera its nt da saym! lol!! ;p
A
Oh Dear, so ugly and poor! Who likes that??? No camera... after all, nothing at all! :0
d
look nice , there is no camera, mp3 , infrared, ,,,,,,,, , , , , , , , , , , , , ,


from Bangladesh


Total of 9 user reviews and opinions for Haier M1000.