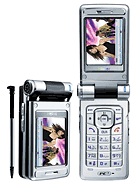 a
I saw this phone in canton fair in china.
real great phone with 4 mpixel camera ;rotate flip; PDA ; 3 hour video recorder , wow it is my next buy after my nokia 6630
H
Phone just fine but
Sucks!!! like other PDA phone with keypads, no BT no infra! how can you transfer data to ohters!!!?
A
I just got one from my friend. pretty good!!Its OS is Linux. I can manage her as mini DC,DV.... In a word, magnificent!!
h
You can use SDIO cards to get Bluetooth or just about anything. I want more info on this phone. Wouldnt mind buying it!
g
wow. i wanna have this phone too. anyone knows when it will be available???
S
No Bluetooth
No Edge
No Infra
weight is too much. I don't like this one.

S
Yeah, this is it. As it is tri-band 900/1800/1900, I suppose it will be mainly launched in Europe. I hope I can find it for a decent price. That's my next buy.
Total of 51 user reviews and opinions for Haier N60.