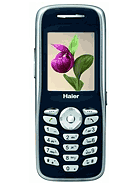 a
why i cannot use my phone v200 with vista operating system. Pls reply to safiadewale@gmail.com
a
why i cannot use my phone v200 with vista operating system
R
it is good. but how can i access GPRS service in this model.
tell me how can i activate GPRS.
v
good one. But I could not operate the flash facility provided on the back of the mobile. Is it functional one? pl. tell me how to use the same.
l
i have it

is a good phone ....how to connect it with the data cable ..my system not detecting it

can anyone help me out i will be thankful
?
it does just plug n play dude
v
please provide gprs settings
N
I am looking for the charger for the phone for last 3 months, have searched all Delhi and Gurgaon, but unable to find.Haier should do something about it outlets here.
s
lettering is too small.and the cable connectivity with PC just does not work with win XP
p
If you look at if carefully, no doubt that it looks just like the samsung low-end counterpart model. Com'n, China. Be creative. Design your own style. Don't paste-and-copy others' intellectual works.
o
Hello
Please how can i get Haier V200 english maual on the website. kindly let know the feedback.
Thank
T
Samsung X100 look-alike
s
very good mobile.
goodlooking, sleek with camera, nice phone.
R
Siemens SK65 look a like.....
Total of 14 user reviews and opinions for Haier V200.
ADVERTISEMENTS