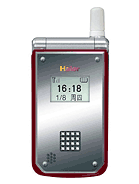 ?
the phone looks like when you ripp the face off of something just raw.that phone is ugly!!!
withdraw immediately!!!
2
a lot of people just want a cellphone that is very cheap and very simple. this is the one.
~
WAT THE HELL IS THAT :|
that is the poorest phone i have ever seen yet, where is its features...if any??
HAIER---try at least a little big harder ;)
~*BRIDENCE*~ xoxo
?
In form iit's like Nokia 6170
Total of 4 user reviews and opinions for Haier Z7100.