Hangouts 11 for Android adds video messaging, removes merged conversations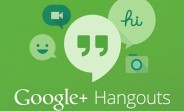 Google maybe on the verge of launching Allo but that hasn't stopped the company from tinkering around with Hangouts. The Android app now gets video messaging, something that was available on the iOS app for some time now. You will see a button at the bottom to record and send videos from within the app. On the iOS side, the video size limit has been increased to two minutes now.

Both platforms also get the ability to kick members out of a group chat.
Google has also dropped the merged conversations feature in the Android version of the app. This means it will no longer show SMS and Hangouts messages sent to a contact together in a single thread. Google says it caused user confusion and had low usage, although it might be that the company is phasing the SMS support entirely from Hangouts.
D
No we don't want that Potato app.
D
Yeah I'll have to reinstall the GV app and then reactivate the Chrome extension again, no point in using Hangouts at all anymore. RIP it was really useful, don't know why it has so many haters but now I'm beginning to understand...Google's hella dumb...
D
hangout is exit who use this crap