Sonim recently became the proud recipients of a Guinness World Record, certifying that they manufacture the toughest mobile phone on the planet. The Sonim XP3300 Force withstood a fall onto concrete from a height of 25.29 meters without sustaining operational damage. This achievement followed the previous record held by the Sonim-made JCB tough phone, which set a record of just 3.25 meters.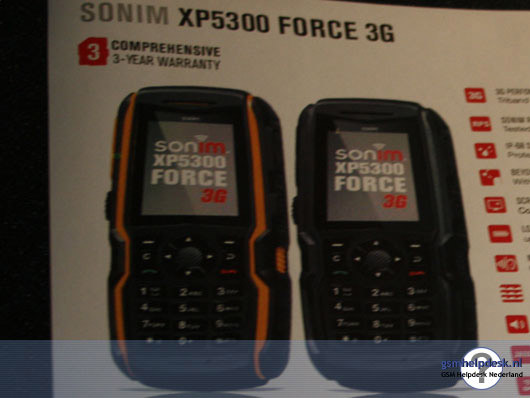 It now appears that they have no intention of slowing down, on the contrary, speeding up in more ways than one, as information regarding Sonim's next creation, the XP5300 Force 3G leaks out.
The XP5300 promises UMTS support across 900, 1700 and 2100 frequencies, twinned with a 1950mAh battery resulting in an impressive 22 hours of talk time and an unbelievable 1500 hours of standby. Alongside the 3G connectivity, there's now Bluetooth 2.1 too allowing greater compatibility with Bluetooth peripherals such as car kits, more so than many past Sonim's at least. The Force 3G looks to be available in black or black with yellow accents too.
Hardware wise the Force 3G will have a 2" QVGA display, covered by Gorilla Glass, a background noise filter, GPS receiver, Java support, a microSD card slot allowing up to 16GB capacity an FM radio, a media player and an LED flashlight. The latest Sonim will tote a 2MP camera on the back offering video capture too.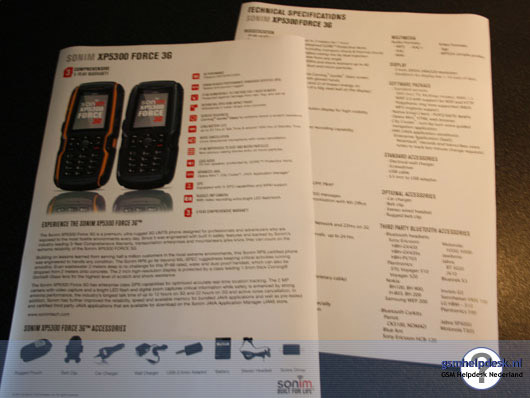 Beyond the respectable phone specs, it's clear that Sonim's focus is still undoubtedly on toughness. The XP5300 as with its predecessor comes IP68 certified, meaning that it has extremely high resistance to dust, shock and water damage.
Chances are we will see an official announcement for the Sonim XP5300 Force 3G in the not too distant future and perhaps another world record attempt not too long after that. Hopefully we can get hold of one ourselves, and put it through our own gauntlet so you can see how it fares.
Special thanks to the guys at GSM Helpdesk Nederland for this one.
Source (Dutch)
b
Check out torshio nasiama at fukushima report. His XP1.3 was in his company toyota camry and is still working. Only problem is that is in an exclusion zone and won't be accessible for 40 years
d
can you make this a phone to use in the usa please then sonim will get it!!!!!!!!!!!!!!!!!
K
My dad is a contractor who can not for the life of him keep a phone alive for more than a few months. Most of his phones have met their demise falling off a rooftop to the foundation below. I may look into purchasing one of these for him.
ADVERTISEMENTS