EMUI 9.1 recipe for Pie
The P30, just like the P30 Pro, runs Android 9 Pie under a thick skin of Huawei's own EMUI. It's a polarizing launcher which may not be to everyone's taste, but Huawei has been working on it for years and there's no denying the 9.1 version we have here is the most polished it's ever been.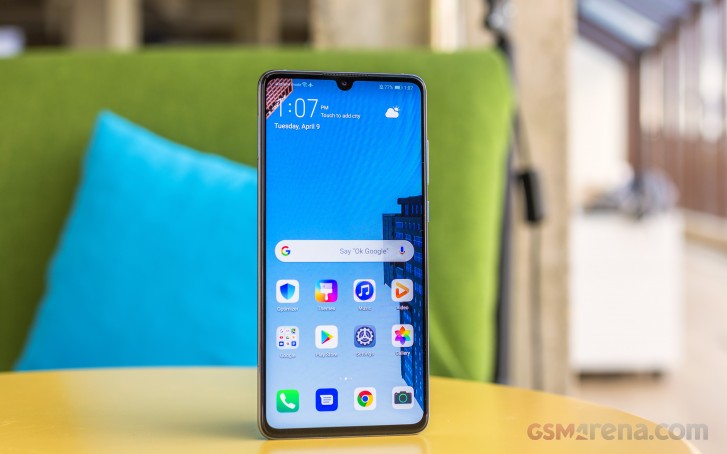 Despite the small increase in the version number, EMUI 9.1 actually brings a major change under the hood - new Huawei phones with this version or later will get a new file system called EROFS, and phones that get updated to this version will get the new file system as well.
The ERO file system is supposed to offer 3x increase in Random reads and 10% improvement in app startup times. It's also allowed Huawei to reduce the storage taken up by system files by 20%. So, while there are no visible changes from the Mate 20 series EMUI, the P30 should be snappier in certain scenarios and its OS should have a smaller storage footprint than before. Whether we're past the point when you can actually feel the improvement or not is a different matter.
Other key features of EMUI 9.1 include GPU Turbo 2.0 support and a new Password vault. There is a better Huawei Share too for transferring files to and from a PC and printing documents wirelessly. Other highlights include a travel assistant by HiVision and an in-house developed Digital balance app that tells you how much time you are spending on your phone and gives you the option to set time limits on yourself or your kid (the screen will go monochrome after the allowed usage time is up and most apps will be blocked).
Anyway, let's do the walkthrough. The P30 and P30 Pro get an upgraded under-display fingerprint scanner, which is now easier to set up and requires less pressure than on Mate 20 Pro. The accuracy is superb, while the recognition is even faster than on the Mate. And while the sensor is not as fast as the latest conventional sensors, it's close enough so the difference doesn't matter in real life usage.
Face Unlock is available, but it just uses the front camera, which means it's less secure and can potentially be fooled by a picture. So, if privacy is of utmost importance, you may want to avoid this option.
EMUI's usual Magazine lock screen is present - it cycles through a bunch of wallpapers (covers), so you see a different one every time you fire up the display. A new addition is the always on display, which does what it says on the tin - it constantly shows a clock and notifications on an otherwise black screen.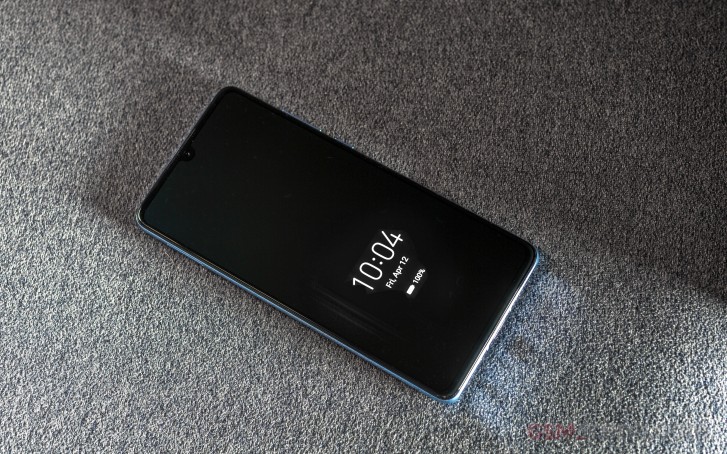 Out of the box, there is no app drawer on the EMUI 9 - it's a single-tier interface akin to iOS (a theme you should have picked up long ago). However, if you prefer Android's usual two-tier layout, you can enable it from the Display settings.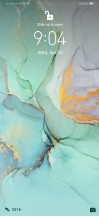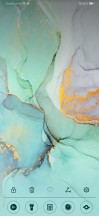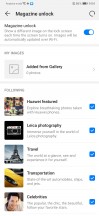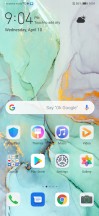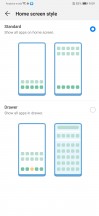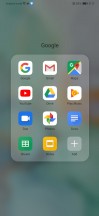 Lockscreen • Tools • Magazine unlock • Homescreen • Homescreen style • Folder view
You can either embrace the notch or you can opt to mask it with a black status bar that extends all the way down to the bottom edge of the water drop. As notches go, this is one of the tiniest, so we'd imagine few people would choose to hide it.
Gestures on the P30 are very much influenced by the iPhone. It goes like this - swipe up for Home, swipe up and stop midway for Task switcher, or swipe from the left or right edge of the screen for Back. The phone does come by default with Android's virtual navigation keys though, so you are free to chose which method you prefer.
The notification shade is business as usual, the difference from any other maker's implementation being mostly Huawei's take on the graphics. There's a brightness slider and a row of toggles, and you pull down again for more toggles. The auto brightness toggle is buried in the settings menu, however.
Multitasking is a familiar affair. Holding the Recent key will let you activate the split screen mode. If you've gone the gesture navigation way, you'll need to evoke the task switcher and then tap on the multitasking icon in the top right corner of the app.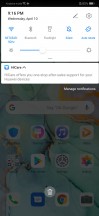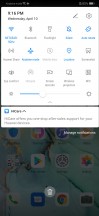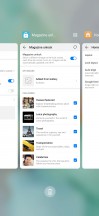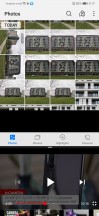 Notification area • Toggles • Recent apps • Split screen
Huawei's EMUI offers plenty of customization and features, smart rotation, and lift to wake. Themes are supported, too, and there are a lot to choose from.
From the Optimizer app (previously known as Phone Manager), you can access shortcuts to storage cleanup, battery settings, blocked numbers, Virus scan powered by Avast, and mobile data usage.
Huawei's own Music app offers a way to listen to stored MP3s, while Huawei's Health app offers Google Fit syncing and step counting. There's a file manager app and a note-taking app. And if you don't like any of those - there is an abundance of alternatives in the Play Store.
There is an improved AI-powered gallery with EMUI 9. In addition to the automatic sorting with highlights, you will get an automatic but editable Spotlight Reel.
Sadly, the P30 omits the IR blaster - to have that you need to go Pro (and lose the headphone jack in the process). Neither phone has an FM radio receiver, so there's parity in that at least.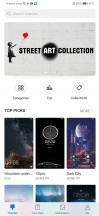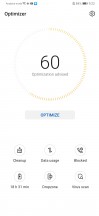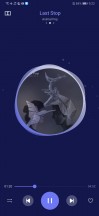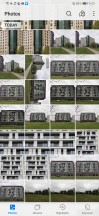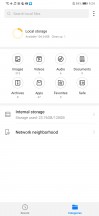 Themes • Optimizer • Music Player • Gallery • Huawei Health • Files
Synthetic benchmarks
The P-series for this year inherit Huawei's in-house Kirin 980 chipset which debuted with the Mate 20 family last fall. It was the first chip built on a 7nm node, but Qualcomm has since matched it with the Snapdragon 855 and Samsung is sort of there with the 8nm Exynos 9820.
The Kirin 980 uses an octa-core CPU design with two high-performance Cortex-A76 cores running at 2.6GHz, another two Cortex-A76 cores clocked at 1.92GHz, and four Cortex-A55 cores that go up to 1.8GHz for less demanding applications. The processor makes use of ARM's DynamIQ architecture, which is the evolution of big.LITTLE and allows any subset of cores (or all of them together) to work simultaneously depending on the workload.
The GPU inside the Kirin 980 is the Mali-G76 MP10 (ten-core) GPU, which offers significant performance and efficiency gains compared to the Mali-G72 MP12 in the Kirin 970 of last year's P20/P20 Pro.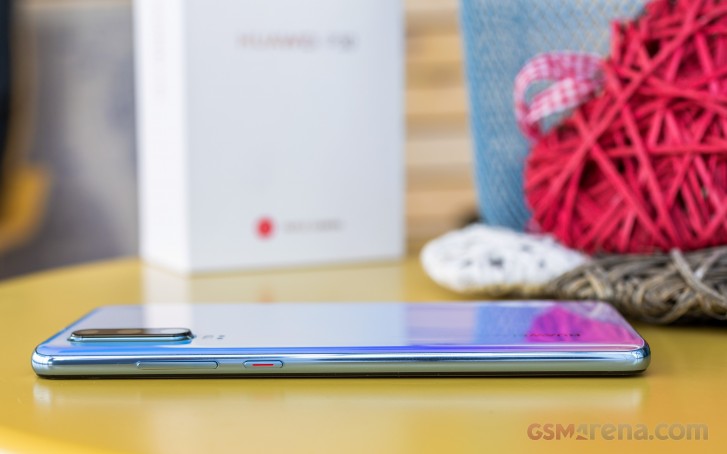 EMUI 9's GPU Turbo 2.0 is supported by six games in total for the time being - PUBG Mobile, Mobile Legends: Bang Bang, NBA 2k18, Rules of Survival, Vainglory, and Arena of Valor. It allows all those games to run smoothly and steady at 60 fps at full resolution. Huawei is also working with game developers to enable it in even more popular games, but it's not like we have a timeline for this.
The SoC also supports 2133MHz LPDDR4X memory and incorporates a dedicated dual NPU chip. Huawei calls it "Dual-Brain Power" and can help recognize up to 4,500 images per minute, which is around 120% faster than last year's single NPU chip of the Kirin 970.
For a few model generations now, Huawei has had its Performance mode available to anyone who wants to squeeze the absolute maximum of the hardware when battery drain isn't all that important. Hence, the switch can be found in the Battery settings of the P30 Pro.
The Performance mode offers a small speed boost in some instances, but not for long as the phone gets warm quickly and automatically reverts to its safe settings until it cools down.
The net result is up to a 10-12% boost for the first run. Yes, that's it. You can get a sustainable 5% boost compared to the regular mode over time, while the 10% bump is for the first few minutes only. So, we are not sure if the extra heat and battery drain are worth the hassle, but hey - you do you.
Single-core results in GeekBench put the P30 more or less on on par with the Snapdragon 855s. The Kirin 980 is then comfortably ahead of last year's remaining competitors with S845 chips and there's an even wider margin when comparing against Huawei's own Kirin 970-packing P20s. The Exynos' oversized custom cores have no match in the Android world when it comes to single-core loads.
GeekBench 4.1 (single-core)
Higher is better
Samsung Galaxy S10
4543
Xiaomi Mi 9
3503
LG G8 ThinQ
3419
Huawei Mate 20 (perf.)
3401
Huawei Mate 20 Pro (perf.)
3390
Huawei P30 (perf. mode)
3351
Huawei P30 Pro (perf. mode)
3323
Huawei P30
3295
Huawei P30 Pro
3270
OnePlus 6T
2431
Nokia 9 PureView
2405
Google Pixel 3
2377
Huawei P20 Pro
1907
Huawei P20
1897
As for multi-core applications, the Snapdragon takes the lead ahead of both Exynos and Kirin. Here, Performance mode makes a slightly bigger difference - if 3% can be called a difference.
GeekBench 4.1 (multi-core)
Higher is better
Xiaomi Mi 9
11181
LG G8 ThinQ
10735
Samsung Galaxy S10
10174
Huawei Mate 20 (perf.)
10138
Huawei P30 (perf. mode)
10114
Huawei Mate 20 Pro (perf.)
10110
Huawei P30 Pro (perf. mode)
10014
Huawei P30
9789
Huawei P30 Pro
9649
Nokia 9 PureView
8986
OnePlus 6T
8977
Google Pixel 3
8146
Huawei P20
6722
Huawei P20 Pro
6679
Moving on to Antutu, the P30 in Performance mode is approaching the scores achieved by the Galaxy S10 and G8 ThinQ, while flipping that toggle off gets you more like Snapdragon 845 results.
AnTuTu 7
Higher is better
Xiaomi Mi 9
372006
LG G8 ThinQ
331537
Samsung Galaxy S10
328366
Huawei P30 Pro (perf. mode)
316156
Huawei P30 (perf. mode)
314595
Huawei Mate 20 (perf.)
308307
Huawei Mate 20 Pro (perf.)
308050
OnePlus 6T
293994
Huawei P30 Pro
290189
Nokia 9 PureView
288473
Huawei P30
287960
Google Pixel 3
233699
Huawei P20 Pro
209884
Huawei P20
206906
So with the minor difference in CPU scores with Performance on vs. off and the more tangible boost in Antutu, it's got to be the graphics that benefit more. Indeed, in 3D mark the P30's Performance mode posts some 20% higher numbers than in regular mode. Its Mali is still no match for the Adreno 640s in the S855 powered G8 and Mi 9, and even the Nokia 9 has the upper hand despite having last year's chip.
3DMark SSE 3.1 Unlimited
Higher is better
LG G8 ThinQ
6017
Xiaomi Mi 9
5816
Nokia 9 PureView
4959
Samsung Galaxy S10
4550
Huawei P30 (perf. mode)
4329
Huawei P30 Pro (perf. mode)
4315
Google Pixel 3
3647
Huawei P30
3597
Huawei P30 Pro
3522
Huawei P20 Pro
3155
There's a minor difference in the fps numbers in GFXBench between the two modes, but the fact is that the P30's GPU doesn't have quite as much raw power as the ones in the Snapdragon-packing competitors. Having said that, the 1080p resolution helps it score respectable numbers in the onscreen tests.
GFX 3.1 Manhattan (1080p offscreen)
Higher is better
Xiaomi Mi 9
70
Samsung Galaxy S10
68
LG G8 ThinQ
65
Nokia 9 PureView
60
OnePlus 6T
60
Google Pixel 3
57
Huawei P30 Pro (perf. mode)
56
Huawei P30 (perf. mode)
56
Huawei Mate 20 (perf.)
55
Huawei Mate 20 Pro (perf.)
54
Huawei P30 Pro
54
Huawei P30
54
Huawei P20 Pro
40
Huawei P20
36
GFX 3.1 Manhattan (onscreen)
Higher is better
Xiaomi Mi 9
56
Google Pixel 3
55
OnePlus 6T
53
Huawei Mate 20 (perf.)
51
Huawei P30 Pro
50
Huawei P30 Pro (perf. mode)
50
Huawei P30
48
Huawei P30 (perf. mode)
48
Huawei P20
39
Samsung Galaxy S10
37
Huawei P20 Pro
37
Nokia 9 PureView
33
LG G8 ThinQ
33
Huawei Mate 20 Pro (perf.)
27
GFX 3.1 Car scene (1080p offscreen)
Higher is better
Samsung Galaxy S10
43
Xiaomi Mi 9
42
LG G8 ThinQ
40
Nokia 9 PureView
35
OnePlus 6T
35
Google Pixel 3
35
Huawei Mate 20 (perf.)
33
Huawei Mate 20 Pro (perf.)
33
Huawei P30 Pro (perf. mode)
33
Huawei P30 (perf. mode)
33
Huawei P30 Pro
29
Huawei P30
29
Huawei P20 Pro
23
Huawei P20
23
GFX 3.1 Car scene (onscreen)
Higher is better
Xiaomi Mi 9
35
Google Pixel 3
33
Huawei Mate 20 (perf.)
31
OnePlus 6T
31
Huawei P30 Pro (perf. mode)
29
Huawei P30 (perf. mode)
28
Huawei P30 Pro
27
Huawei P30
26
Samsung Galaxy S10
23
Huawei P20
23
Huawei P20 Pro
21
LG G8 ThinQ
20
Nokia 9 PureView
19
Huawei Mate 20 Pro (perf.)
16
As we've known since last fall, the Kirin 980 that powers the Huawei P30 is a capable performer with one of the more powerful CPUs in an Android phone. The GPU isn't quite as potent as you'd find on a Snapdragon 855 or an Exynos 9820 phone, but with its 1080p resolution the P30 has just the right amount of raw power.