HBO Max will launch in Latin America and the Caribbean this June, Europe later on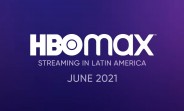 HBO Max is going global – it will launch in 39 territories in Latin America and the Caribbean in late June (see the full list below). Later on it will expand to Europe, but in a slightly different way. No word on a launch in Canada yet.
The HBO Go service in Latin America and the Caribbean will be phased out. Current subscribers will get instant access to Max through entirely new apps and various subscription options.
HBO Max will offer movies and TV series from the major Warner Media properties – HBO, Warner Bros, New Line, DC, CNN, TNT, TBS, truTV, Adult Swim, along with Cartoon Network and Looney Tunes Cartoons for the younger viewers.
This includes long-time favorites like Friends plus new content like Raised by Wolves and upcoming series like the GoT prequel House of the Dragon. There will be Max Originals too, which will showcase the work of local movie and TV show creators.
HBO Max will replace the current HBO-branded streaming services in Europe later this year, specifically in the Nordics, Central Europe, Spain and Portugal. The exact launch date is yet to be announced.
Starting in late June, HBO Max will be available in: Anguilla, Antigua, Argentina, Aruba, B.V.I., Bahamas, Barbados, Belize, Bolivia, Brazil, Cayman Islands, Chile, Colombia, Costa Rica, Curacao, Dominica, Dominican Republic, Ecuador, El Salvador, Grenada, Guatemala, Guyana, Haiti, Honduras, Jamaica, Mexico, Montserrat, Nicaragua, Panama, Paraguay, Peru, St. Kitts and Nevis, St. Lucia, St. Vincent, Suriname, Trinidad & Tobago, Turks and Caicos, Uruguay and Venezuela.
M
As a fellow latinamerican I have to say that Prime Video is pretty decent in the region. Netflix is by far the best, then Prime Video and far behind Disney+. Currently I got 2 free months of Disney+ and other than Wandavision and The Mandalorian I se...
a
I just have to agree with this comment. Sadly, only few films/shows truly represent books.
?
Really? Prime Video over Netflix? The ONLY reason why people have Prime Video is because it free for Prime members... Or if you country don't offer *anything* else. Prime Video has their worst catalog index as if it from the 2000s...