We've been fighting an uphill battle for years now against people manipulating our voting system, and it seems we've finally lost it. Let's see if there's a way to win the war. We have no more tricks up our sleeves and dedicated fanboys are ruining our voting system by attempting to place their favorite phone on top of the charts.
We've introduced different policies to limit the impact of the fraudulent votes, but that turned out to be insufficient – there is only so much you can do against a tireless fanboy with a fixation.
Armed with a range of IP-s, proxy list and plenty of free time, some people will stop at nothing to see their darling smartphone climb up the voting ranks, raping the vote button mercilessly. What's worse, they've figured out it's far easier to downvote direct competitors and give them minimum ratings, rather than simply give full 10s to their favorites.
As a result most of the popular phones in our database have ratings of about 8.2 – 8.3, which renders the whole thing quite useless. There's little reason for a voting system to exist if it can't help you tell the good phones from the bad ones. So, to find a solution to this problem we are turning to you, our beloved readers for help.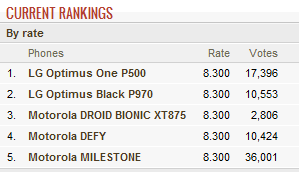 We've come up with 3 different options and before trying them out, we would like to hear what you think about them.
1. Leave the voting system as it is, but do some clever filtering of the extreme votes - all ones, all tens, etc.
Pros: Leaves the familiar look and functionality intact, quickest to implement.
Cons: It might not be completely impervious to the current issue; soon the vote fanatics will learn how to overcome this and we will probably end up in the same situation.
2. Reset all voting stats and only allow voting for logged-in users.
Pros: Leaves the same look and brings more accurate results, as fraudulent votes will virtually stop
Cons: It will limit access only to users with a Facebook account. The less popular phones will get too few votes, which won't be helpful either.
3. Scrap the current system and introduce an entirely new one, which only allows positive interaction. You will only be able to vote for a phone and phones with the most votes will be rated the highest. Yeap, a blatant Facebook rip-off, but there's a reason why that feature is so successful.
Pros: It should give more accurate results, due to the lack of negative votes. Phones some people just love to hate will finally be given a chance.
Cons: We will start from zero, with no stats at the beginning. Fanboys can still use the same methods to vote often for their favorites, but fake votes will be a lot easier to filter out.
Let us know what you think in the comments. If you have an idea for another voting solution, we'd like to hear that, too.
Update: Thank you for the overwhelming response, 1000+ comments is a lot more than what we expected.
Believe it or not, we took our time to read and consider every single suggestion posted in our news comments section. Two things are quite clear:
Almost everyone thinks our voting systems needs a change
Option 2 and 3 get about the same amount of supporters
But that's not all we took away from it. There were plenty of interesting suggestions and we found some of them to be particularly useful.
We are now going to try and put all the pieces together and come up with a new voting system and hopefully it will be of much more use than its predecessor. Once again, thank you for your support and stick around to see what we come up with.
?
How the hell does it even work?! Pls tell me
p
rate phones according to your reviews.divide the rating into two sections,one for gsmarena rating and one for public.display phones as per your ratings and let the general rating be the secondary one.users can view phones as per your ratings and the ...
G
The Users Must Enter The Email Addresses of his or her and enter the imei no of the phone they own and nationality of that person to qualify for the vote system.
ADVERTISEMENTS