Samsung Galaxy Z Flip in for review: a closer look at its unique features
The Samsung Galaxy Z Flip is Samsung's hottest new flip phone and while the latter part of this might remind you of 2005, the phone is every bit 2020. Samsung (and Motorola with the Razr) has used cutting edge technology to bring back a classic form factor.
We've got our hands on a Mirror Purple retail unit of the Galaxy Z Flip and have been getting an idea of what it's like to use as a daily driver. Exactly how does a smartphone with a clamshell form-factor work differently than the regular candy bar design we've settled on in the last decade - here's what a day with the Z Flip was like as we start work on our review.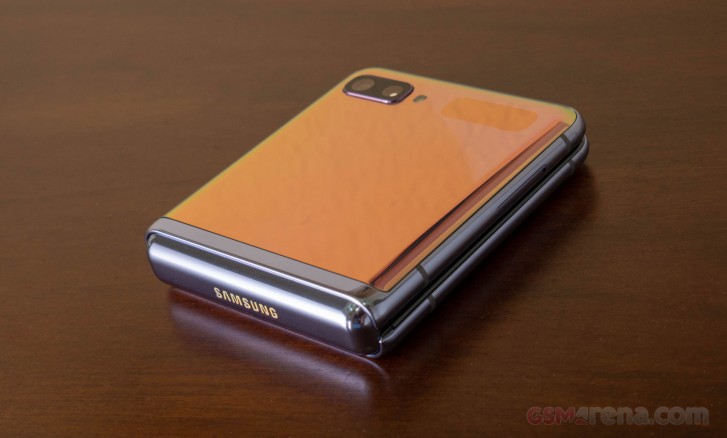 The Galaxy Z Flip is all about its design. When folded, its far more compact than any modern smartphone, making it far more pocketable. Thus, the need for an external display on this kind of phone is crucial. Bringing back memories of a decade ago, the external screen lets you check who is calling, see missed notifications, and even shoot photos although that last bit is a little challenging.
The opening and closing actions of the hideaway hinge is great, but it has far more resistance than your average flip phone from the last decade. It will take some practice to open it in a single move. You kind of need to cock your wrist back as you break the magnetic seal between the two halves, and then flick your wrist forward with just enough force to get the hinge to reach the fully open position.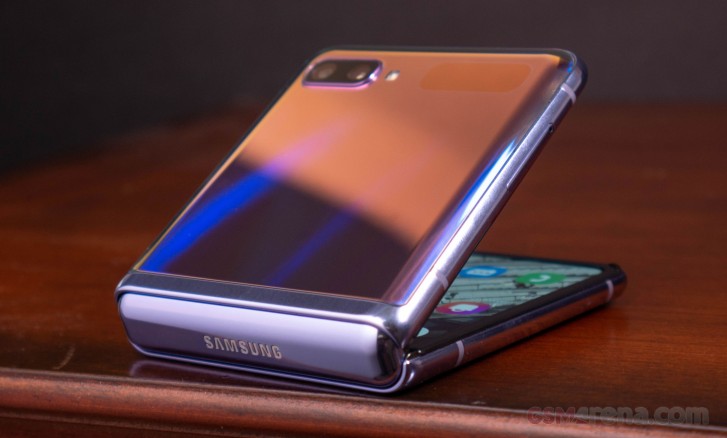 The Galaxy Z Flip's external screen is behind the reflective piece of glass so you might miss it at first glance. Still it supports swiping gestures, so you can even do stuff such as switching cameras.
This sounds great in theory, but in practice it is a slim screen, so the viewfinder is only going to help you make sure your face(s) are in frame. However you are using a very slim screen to capture a square aspect ratio photo so framing is never going to be ideal. Perhaps this is something Samsung should address with a software update by offering more settings for shooting selfies with the external screen.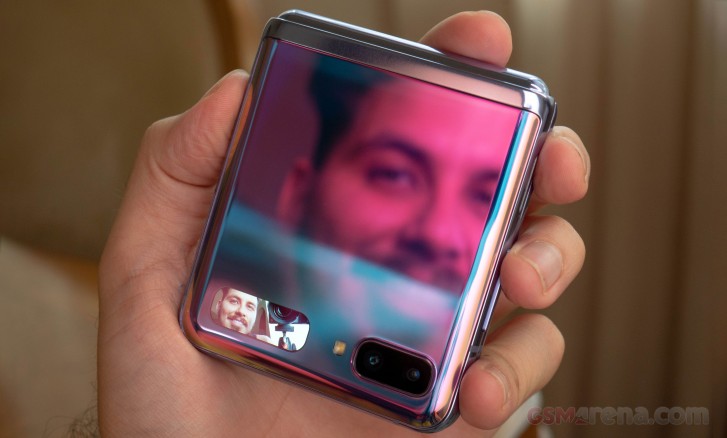 Also, since you have to flip the phone open to see the full viewfinder, you might find yourself missing a shot every once in a while because that extra step slows down the process of firing up the camera. However, if you double tap the power button before you open the screen, you can shave some time off.
As you'd expect, you can see a brief description of your notifications as they arrive. You can then tap on that notification and proceed to open and unlock the Galaxy Z Flip to see the corresponding app on screen.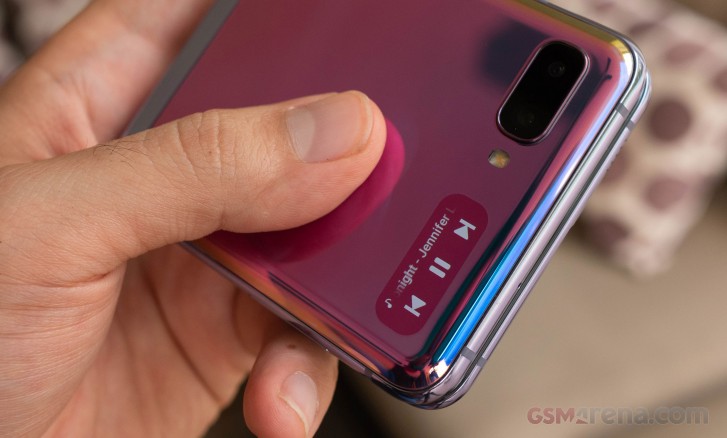 Alternatively, when playing music, you can access music controls from the external screen, so you don't have to open the phone to skip a track.
The Galaxy Z Flip has an always-on display like many of Samsung's other phones, but it only works on the internal screen while the phone is flipped open. The Z Flip doesn't support an always on for the external screen, but for what it's worth, the little screen stays on while the phone is charging.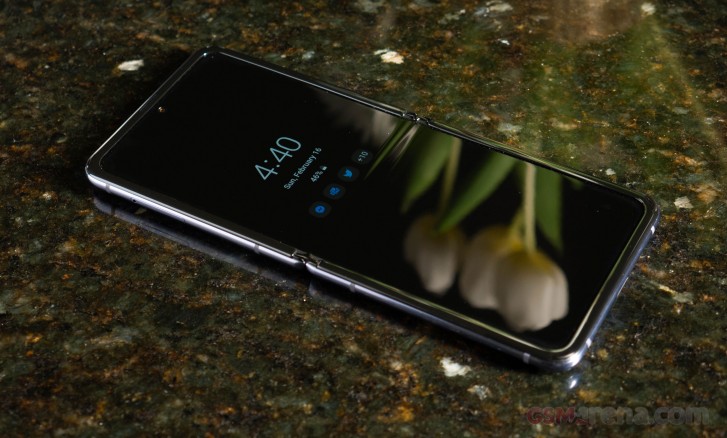 The Galaxy Z Flip debuted the phone's new Flex Mode - it takes advantage of the fact that the phone can sit on a flat surface when folded about halfway. In supported apps, it can shift some of the UI around so you get the content in the upper half and controls in the lower part. The main purpose of this mode is so that you can place the Z Flip on a tabletop and still use it comfortably.
Flex Mode is only supported by three apps at the moment: Gallery, Camera, and Google Duo. That last one is probably the most useful, because you can prop up the phone on a desk or table and do a video call completely hands-free. You can also prop the phone up for a hands-free selfie video or use Flex Mode to scroll through your Gallery's photos.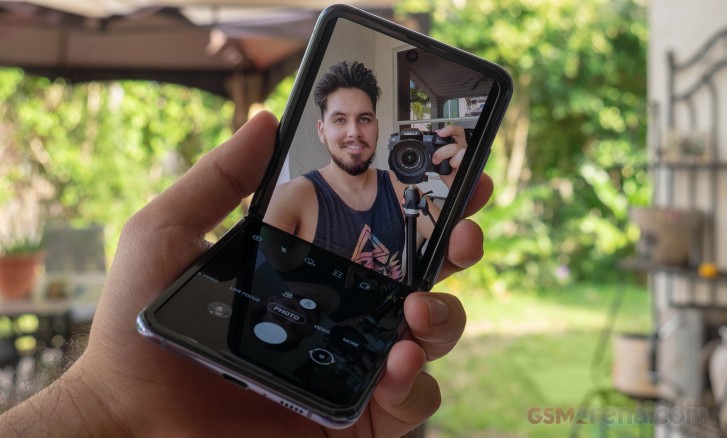 We only see using Flex Mode with Google Duo and the Camera app as viable. Since Samsung worked with Google for Flex Mode, the feature will come to more apps with support for non-Samsung devices. We would like to see Flex Mode supported on Spotify so you can see the controls on the lower half and the album art on the top half.
Wrap-up
The Samsung Galaxy Z Flip has a unique hinge design that might help it create a whole new class of high-end smartphones. Although there are some unique software features that its folding design enables, I feel like there could be more features in the external display or with the external viewfinder on the camera.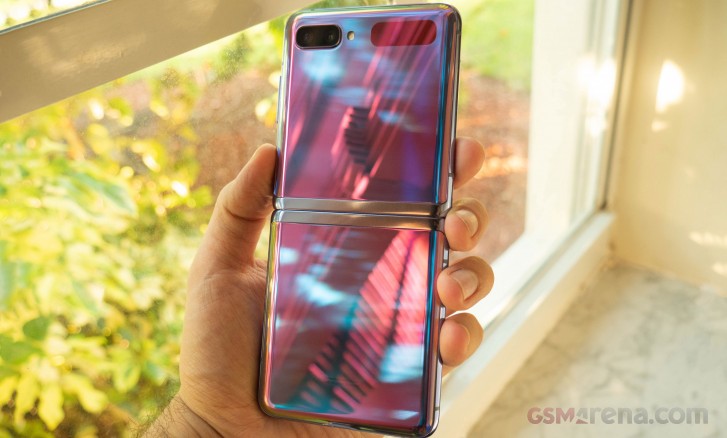 Otherwise, our first impressions of the Galaxy Z Flip are great. The hideaway hinge and display both impress. We'll need to complete the full review to see how good battery life, performance, and image quality of the cameras are, but it all looks promising.
As we enter our review process, feel free to ask any questions you might have about the Samsung Galaxy Z Flip.
G
Why would it be illegal?
p
Is the fingerprint sensor on the side legal?
M
Looks like a make up box, no thank you.