A global launch of a smartphone is no easy task – there are long lists of which country gets what and when. The latest list (courtesy of SamMobile) about the Samsung Galaxy S4 is about the Eastern European launch of the flagship droid (including Russia and the Ukraine).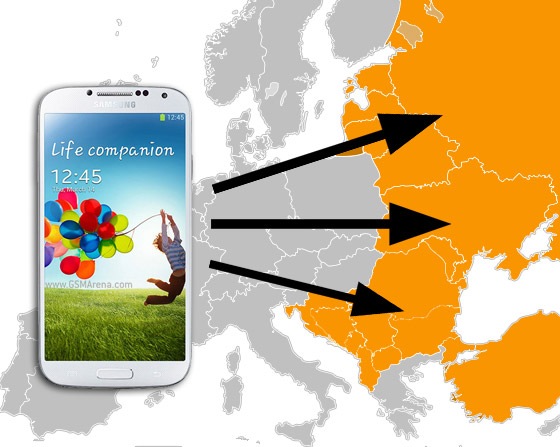 The Galaxy S4 is split into two versions – 3G and LTE. Unfortunately, it's not entirely clear if those are the Exynos 5 Octa and Snapdragon 600 or some mix of the two. Both chipsets support LTE. The earlier rumors suggested the Exynos version will be the one sold in both Russia and the Ukraine, you can consult the list for the rest of the countries.
Both color versions – Black Mist and White Frost – will arrive at the same time. Also, the 32GB version seems to have been dropped – you get either the 16GB version or go for broke with the 64GB. The microSD card slot means storage is easy to expand, so you must really need huge amounts of storage to go for the 64GB units.
Anyway, here's the list:
Galaxy S4 3G 16 GB – Week 16
Galaxy S4 3G 32 GB – DROPPED
Galaxy S4 3G 64 GB – Week 24
Galaxy S4 LTE 16 GB – Week 21
Galaxy S4 LTE 32 GB – DROPPED
Galaxy S4 LTE 64 GB – Week 24
Week 16 is April 15-21, Week 21 is May 20-26 and Week 24 is June 10-16.
B
hehe....I didn't buy 4 previous models of IPhone.......and I seriously think about NOT buying the 5th one)))))
?
FYI, next quarter you going to see Apple iP5S , might be in June end with improved processor and camera... If u don't have an iPhone, YOU don't have an iPhone. ROFL :P
y
is your comment serious.?
ADVERTISEMENTS