That early leak was mostly confirmed - HTC just announced the Incredible S, Desire S and the Wildfire S. The letter S tacked on the back of their model names do little to justify the new release. The three phones are not exactly full of new features.
The leader of the pack, the HTC Incredible S, is not the Desire HD2 from the early leak. It's actually pretty similar to the Droid Incredible. The phone measures 120 x 64 x 11.7 mm, weighing 135.5 grams with recognizable Incredible styling.
The major difference is the screen - a 4.0" WVGA Super LCD, a first for HTC. It also has one pretty unique feature - the icons of the capacitive keys rotate with the screen. There's no Bluetooth 3.0 or HDMI, just BT2.1, Wi-Fi b/g/n and DLNA.
The Incredible S runs Android (reportedly Froyo) with HTC Sense on a 1GHz Qualcomm CPU (info on it is scarce) with 768MB RAM. On the back there's an 8MP autofocus camera with LED flash and 720p video (that's right, Full HD recording is not among the HTC offerings) and a secondary 1.3MP front-facing camera.
The HTC Desire S has an aluminum unibody (just like the Legend). With a 3.7" WVGA screen, the handset is powered by a 1Ghz Qualcomm chipset - so it's got a single-core CPU with 768MB RAM and Adreno graphics. It should ship with Android 2.3 Gingerbread.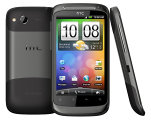 HTC Desire S with an aluminum unibody
The Desire S camera is a 5MP snapper with 720p video capture, coupled with a VGA camera up front. There's been a minor reduction in the overall size of the HTC Desire S - 115 x 59.8 x 11.63mm and 130 grams. Wi-Fi 802.11n support has been added and data speeds have increased to 14.4Mbps downlink and 5.76Mbps uplink.
Other than that, it's same old same old. Which rings true for the HTC Wildfire S too. The phone is actually more related to the Aria with a 3.2" HVGA display, but HTC are keen to make a point that it's their smallest smartphone yet (that means shorter than the original Wildfire and the Aria/Gratia).
The HTC Wildfire S is 101.3mm tall, 59.4mm wide and 12.4mm deep (the Aria measures 103.8 x 57.7 x 11.7mm). Anyway, the phone runs a Sensed Android (should be ver 2.3 Gingerbread again) on a 600MHz CPU with 512MB RAM. It has a 5MP camera with LED flash and a microSD card slot.
Curiously, the Wildfire S has Bluetooth 3.0 and NFC support (the other two don't) along with Wi-FI b/g/n.
The Desire S and Wildfire S will be "broadly available" across Europe and Asia some time in Q2 2011. The HTC Incredible S will be out next month.
That's all we have on the three HTC debuts for now, but we're sticking around their booth to try and squeeze out some more info.
e
It's the same as usual I see! The same old big name bashing which usually goes on between htc and apple owners. Get over it! Just you guys wait until next year's super phones are released with quad cores and 1080x720 res. screens. Plus I have it...
?
Why is everyone worrying about Dual Core Processors and 3D CPU's; first of all you will most likely not in this year have a chance to really utalise the extra Processor, and why would you want a 3D graphics on a phone, with has smaller screens than t...
?
1st of all rules: No bashing - deliberately and repeatedly bashing the same brand 2nd of all- ppl dun wanna wait until 2012 just to get a new fone lol and i'm sure by the time 2012 comes around.. HTC and other phone manufacturers will also hav...
ADVERTISEMENTS