Here is Samsung's ad for the Oscars featuring Issa Rae and Constance Wu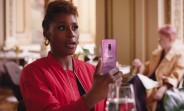 Samsung has released its latest television commercial on YouTube, one that is likely set to air during the 90th Annual Academy Awards on ABC this Sunday.
The ad features two TV actresses: Issa Rae and Constance Wu throughout various scenes encouraging viewers to make anything, even "make something awkward". The ad, of course, shows off the Samsung Galaxy S9 and S9+ in the gorgeous Lilac Purple color.
Ironically, after saying "make something big" the kids reply with "but we don't have a budget" so the obvious response is "make something small". The irony comes when thinking about the steadily increasing cost of flagship smartphones, particularly from Apple and Samsung.
Anyway, the overall tone of the ad is encouraging young creators to go out there and make mistakes, make something, make anything, before making history. This message ties in perfectly with Samsung's "Do What You Can't" ad campaign.
ABC is reportedly asking for $2 million for a 30-second ad spot during the Academy Award Ceremony. This is no surprise as Samsung is well-known for high-spending advertising campaigns.
O
Make your wallets lighter! That's what I'm going to do soon!! Wait.... being an existing V20 user, is it wise to make my wallet lighter with a S9 plus??
X
That's exactly what I do. I was just elaborating on the general brainwashed mindset of the general population on how they like to be swiftly reared from the back :)