Samsung is one of the most popular Android smartphone makers and it is also perhaps the one with the longest delay between major updates, sometimes skipping releases altogether. Android Pie came out in early August and just over two months later and we're already seeing some of the new features to come for the Samsung Experience UI on the Galaxy S9+.
XDA-Developers got its hands on an early build of Android Pie for a Snapdragon variant of the Samsung Galaxy S9+ with a host of notable changes to the Android skin. The early build is from Firmware.Science and is in a developmental stage so there are bugs and broken features in its current state.
The UI gets an overhaul with the most notable change being a proper AMOLED Dark mode for the Samsung Experience UI. Does this mean we'll be able to make the navigation bar black again? So far it looks like the answer to that is yes.
Other changes in the UI include more of a card-based interface with rounded corners. The notification shade and Quick Settings get new layouts and aesthetics. There's also a new lock screen, one with the time closer to the center and a new clock design as well. Finally, recent apps have a new horizontal scrolling like in the alternative Samsung UI called Good Lock.
Next up is the System Settings. It looks like you'll be able to schedule that Dark mode to switch schedules intervals or automatically. There are also a couple of new gestures like lift-to-wake and a new gesture-based navigation.
Rather than Google's gesture pill, Samsung's gesture navigation is enabled when the nav bar is hidden and requires a swipe up in the spot where a virtual button would otherwise be.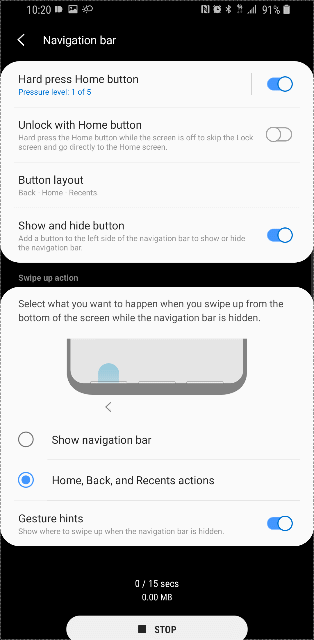 Gesture navigation
Samsung's stock apps have also gotten new looks and UI layouts, rounded corners and card-based design. Finally, the camera sees an all-new UI layout. A new macro/micro toggle appears to be a new feature in the UI while some of the settings and options got moved around.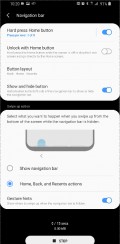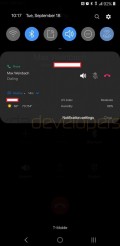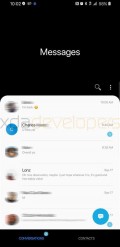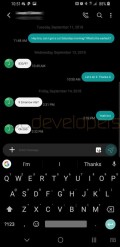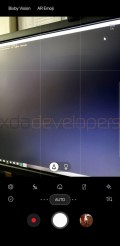 Samsung apps and Camera UI changes
It would seem that the benefits of Project Treble are finally showing through. Considering the timing of this early build, we think it'd be safe to speculate that Samsung might release the Pie update before the end of the year.
Check out the Source link for the full collection of screenshots from the leaked build of Android Pie on the Samsung Galaxy S9+.
Gorgeous! I am in love!!!
?
oppo gestures for samsung, miui for huawei.
z
does this are coming to note8 model unlocked
ADVERTISEMENTS