By now it's pretty clear that most of the top of the line Android smartphones of 2018 will have the Qualcomm Snapdragon 845 SoC at the helm, which was unveiled at the beginning of this month. Thus, the situation next year will pretty much emulate what happened in 2017 with the Snapdragon 835.
Today from a source in China comes a list of handsets that will be using the SD845 in 2018 along with their expected announcement timelines. We can't verify the validity of this information, but the presence of these devices in the list is anything but surprising.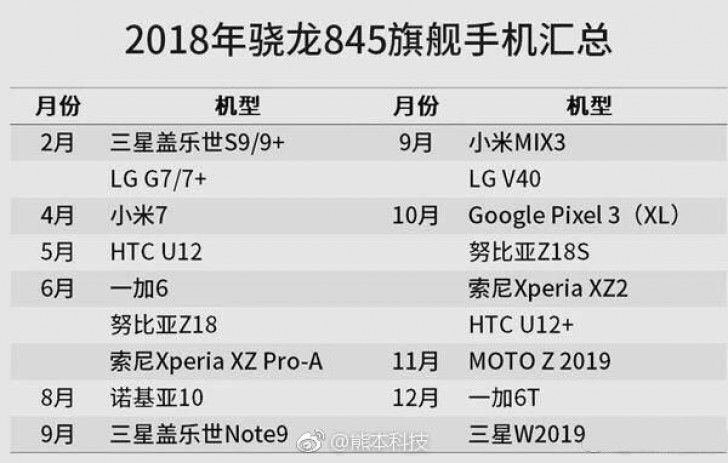 In February, Samsung will unveil the Galaxy S9 and S9+, which will feature Qualcomm's chip in some markets. LG will also take the wraps off the G7 during the same month. Then in April the Xiaomi Mi 7 will be outed, followed in May by the HTC U12. June will be the launch month for the OnePlus 6, ZTE nubia Z18, and Sony Xperia XZ Pro-A, while the Samsung Galaxy Note9 arrives in September, alongside the Xiaomi Mi Mix 3 and LG V40. October is the month when the Google Pixel 3 and Pixel 3 XL get announced, but also the nubia Z18S and Sony Xperia XZ2 and HTC U12+.
In November Motorola will out the Moto Z 2019 with the SD845, while December is when OnePlus will release the 6T and Samsung will do the flip phone thing once again with the W2019, the successor to the W2018.
There are some interesting omissions in this list, so while it is comprehensive you shouldn't see it as exhaustive - we could certainly see other devices powered by the SD845 in 2018, which aren't in it.
?
Dear GSMarena, you forgot to mention about Nokia 10 in August. :)
?
I might be a Nokia fan but IMO they will release N9 and N10 less than 12mos apart, like what happened to N5 and N6, but how do we know, Nokia seems to be planning some things differently that their first appearance from the ashes, now they have a dea...
?
Yes, I know that Nokia 9 will have SD835 but if Nokia 10 is real what will happen to the next generation of the Nokia 8? What will its processor be? I think that currently one shouldn't rely on rumors because many sources say all kinds of stuff. Espe...
ADVERTISEMENTS