Samsung announced the Galaxy S4 with an Exynos 5 Octa chipset, but what the presenters didn't say during the announcement is that a lot of countries will be getting the Snapdragon 600 version instead. And it's not just North America either.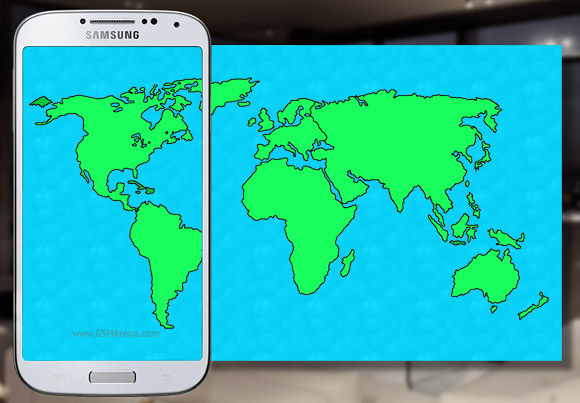 SamMobile has compiled a list that shows which country gets which model. The I9500 is the non-LTE Exynos model while the I9505 is the 4G-enabled Snapdragon model. It's worth pointing out that some lucky countries are getting both.
Here's the list plus known prices so far. Note that it's incomplete and may not be 100% accurate.
North America
I9505 - Canada
I9505 - United States, $580
Africa
I9500 – Algeria
I9500 – Egypt
I9500 – Kenya
I9500 – Lybia
I9500 – Marocco
I9500 – Nigeria
Asia / Middle East
I9500 – Afghanistan
I9500 – Bangladesh
I9500 – China
I9500 / I9505 – Hong Kong
I9500 – India
I9500 – Indonesia
I9500 – Iran
I9500 – Iraq
I9500 – Kazakhstan
I9500 / I9505 – Korea
I9500 / I9505 – Malaysia
I9500 – Nepal
I9500 – Pakistan
I9500 / I9505 – Philippines
I9500 – Russia, 30,000 rubles ($970), April 26 launch
I9500 / I9505 – Saudi Arabia
I9505 – Singapore
I9500 – Sri Lanka
I9500 – Taiwan
I9500 – Thailand
I9500 – Turkey
I9500 / I9505 – United Arab Emirates
I9500 – Uzbekistan
I9500 – Vietnam
Australia
Europe
I9505 – Austria
I9505 – Baltic
I9505 – Belgium / Luxemburg
I9505 – Bosnia and Herzegovina
I9505 – Bulgaria
I9505 – Cyprus
I9505 – Czech Republic
I9500 / I9505 – France
I9500 / I9505 – Germany, €650
I9505 – Greece
I9500 / I9505 – Italy, €700
I9505 – Macedonia
I9505 - Nordic Countries
I9500 / I9505 – Poland
I9500 / I9505 – Romania, 3,000 Lei ($878) for I9500
I9500 – Russia
I9505 – Portugal
I9505 – Slovakia
I9505 – Slovenia
I9505 – Spain
I9505 - Sweden, starting at SEK 220 / $34 a month
I9505 – Switzerland
I9505 – The Netherlands
I9500 – Ukraine
N
what is the difference between this and S4i337 This also mentioned as Samsung Galaxy S4
D
Hello, I am a student in Manchester(UK) and i just bought the galaxy s4 the i9505 from amazon and got it this friday, everything is fine its just that every time i launch the camera app the screen goes black leaving only the camera buttons and ...