Here's a recap of what's coming in Android O, as the OS reaches 2 billion active devices
During its IO keynote today, Google reiterated the main new features coming in the Android O release later this year, but also unveiled a couple of new things. Do note that most of what follows has initially been announced back in March when the first Developer Preview of Android O became available. Speaking of pre-release software, the Android O Beta Program is now live if you're interested in giving the new version a spin (and happen to own one of six supported Nexus and Pixel devices).
Android O comes with the recently detailed Project Treble, which means some of its base has been modularized so that updates will hopefully come faster for devices that aren't supported directly by Google.
Battery life is a focus in this release, and improvements in this regard will come through new automatic limits imposed onto what apps can do in the background - if said apps target Android O.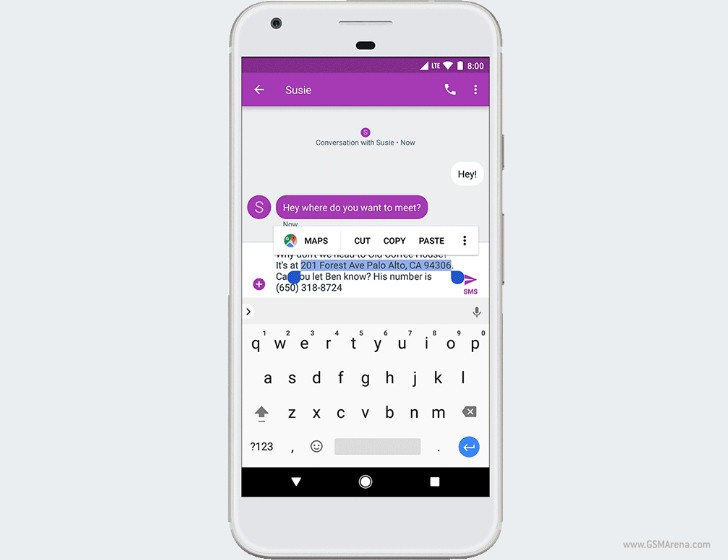 The copy and paste workflow has been improved when dealing with names of places and addresses as well as phone numbers, with the addition of Smart Text Selection. Before you had to manually select an address if you then wanted to look it up, but in O double tapping on any of the words in the address will result in the entire thing being automagically selected without any other input needed from you. From there it's easy to jump to Google Maps to see directions to that place. The same process works for names of businesses too. And when you double tap any part of a phone number, that instantly becomes callable.
For security, a new feature called Google Play Protect will be surfaced in the Play Store. This is basically the same Google engine that has automatically scanned your apps for malicious behavior, but now it will be much more visible to end-users. You'll see information about when the last scan was performed, and will get an option to start a manual scan at any time. The Find my device feature will also live under the Play Protect umbrella starting in Android O.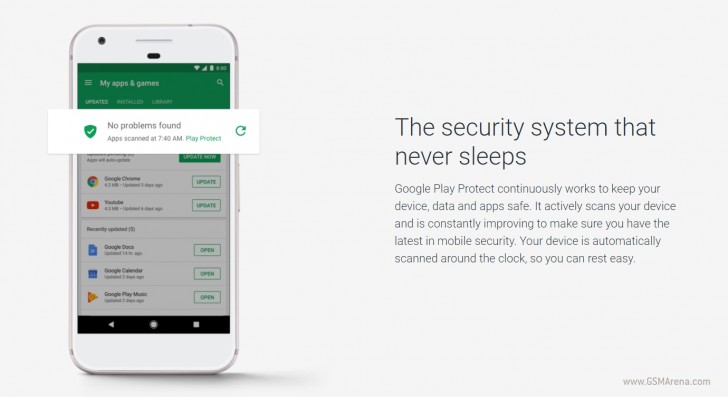 With the new Autofill API, interesting use cases will be made possible. Say you have your Twitter credentials stored in Chrome. Then you install the Twitter app, and when you want to sign in the username and password will be autofilled by the OS based on the existing data. Of course this will also be used by third parties, most notably password managers, to make signing into stuff a breeze.
Notification Channels mean developers will define categories for notification content, and you'll choose to "subscribe" only to the channels you're interested in. Additionally, notifications will be snooze-able in Android O. Picture-in-Picture Mode for videos will take what happens in the YouTube app when you start playing a video and then hit Back to the OS level. So the video will stay with you while you do other things on your device.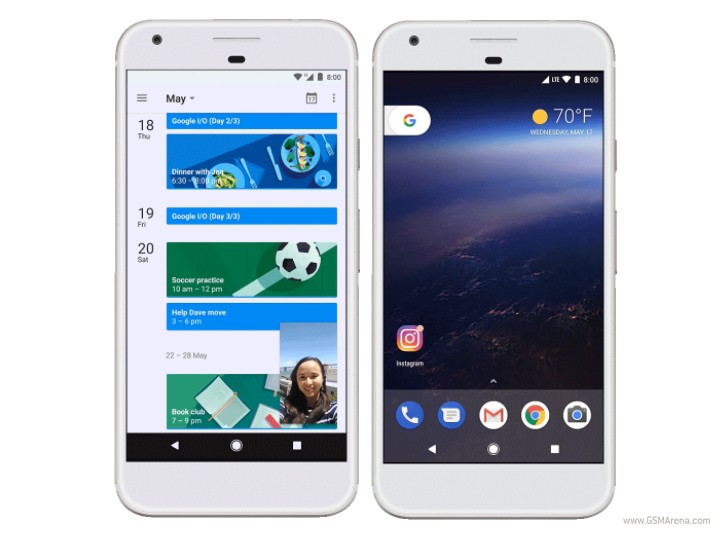 Picture-in-Picture mode (left) and Notification Dots (right)
If you like those app badges in iOS that let you know you have, say, unread emails - well then you're going to love Android O. Yes, such Notification Dots will be automatically applied to your apps' icons, but there's an unexplained twist: there will be no number in the badge. The badge itself (a dot, basically) will show up, and that's it. The hue of the badge will be automatically generated using the colors used in every app's icon. To get a preview of what the dot is about, you long press the app's icon.
Under the hood enhancements are everywhere in Android O, starting with the claimed twice as fast boot time, and improved app performance - all with no changes required from developers.
Android has reached 2 billion monthly active devices, less than three years after hitting the 1 billion milestone. And with Android O, Google is making its mobile operating system more secure, modular, battery-friendly, and feature-filled than it's ever been.
D
"The security system that never sleeps" Does that mean it'll drain our batteries faster?
D
Nice developments on Android O and Congrats to Android for the 2 billion mark. BTW if any one closely scrutinized that video, they will see all versions of the Android desserts as hidden Easter Eggs! :P
D
Same story every year. Getting bored with fake promises by tech companies. Every year Corning launches their stronger glass( by 2 times or more) and in real world shatters with single drop on concrete. Every year Qualcomm comes with 2 or 3 times...