Here's another set of Pixel 3 and 3XL renders, with plenty of resolution to go around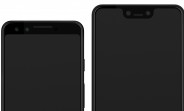 It almost feels like Google decided to switch over to an open development cycle for the third iteration of its Pixel phones, seeing how there's hardly any hardware mystery left to uncover. The Pixel 3 XL arguably got the brunt of the whole nasty situation, with things even going as far as actual production units being sold off on the black market and reviews coming out. Also, a Twitter user is still hard at work, posting away details from a unit, apparently in his possession, as we speak.
Since you guys keep asking... pic.twitter.com/DpRqzsyRem

— Evan Blass (@evleaks) September 21, 2018
Seeing how all bets are apparently off, reputable leakster Evan Blass recently jumped in with his own set of really high-res and detailed renders of both the Pixel 3 and Pixel 3 XL, allowing for a good, close-up look at the new dual selfie setup. As per other sources, both models will feature two 8MP front-facing snappers: one with AF and f/1.8 aperture, while the other, a wide angle, f/2.2 fixed focus unit.
As far as we currently know, despite doubling the count on the selfie side of things, Google is sticking with a single camera on the back of the phones. Other mostly-confirmed details include a Snapdragon 845 chipset, 4GB, plus 64GB base memory option, Qi wireless charging and glass backs, for both models. In fact, unlike the Pixel 2 generation, this time around the two sibling will definitely be much more alike. Gone is the 16:9 aspect of the smaller variant, which could be a a positive or a negative, depending on your taste. The same goes for the extra-beefy notch on the Pixel 3 XL.
In any case, the official product launch will take place in NYC on October 9 where we'll find out everything about the Pixel 3, Pixel 3 XL, and whatever else Google announces. Just in case you were wondering, a Pixelbook 2 range of Chromebooks, new Pixel Buds and a Google Home Hub, complete with a display are all within the realm of possibility.
M
Still not as cool as my iPhone XS Max, nerds.
Why hello. Fancy seeing ya
Well, now you know why flagships are called fashion accessories at this point by many in the tech community