Hours after LG itself confirmed the V30 will have a plastic OLED display we catch a glimpse of the upcoming flagship in a render.
Given that the wallpaper is an old iPhone one, the image probably doesn't come from an official source, but chances are it's close to the real deal. It's likely built following the curve of the teaser from earlier and the proportions from the G6 for the top.
The render shows a continuation of the design of the LG G6 with slim bezels and rounded screen corners.
The LG V30 will have a 6-inch OLED display of QHD+ resolution and 18:9 aspect. The source of the press render drew up a comparison between the V30, the G6 and the Samsung Galaxy S8+ in which the V30 is the middle-sized phone.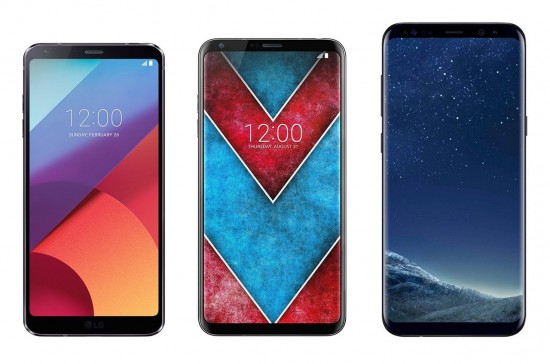 LG G6 • LG V30 • Samsung Galaxy S8+
The V30's official debut is coming August 31, so the wait is almost over.
Thanks for the tip!
p
I actually prefer the bezels on the LG V30, the S8 is too narrow, what matters most in terms of one hand usability is how think the chin is. Having some side bezels left actually feels better and more secure in the hand and you are not constantly smu...
L
I agree. The side bezelz are so thick. Whoever work on LG designs need to be fired. And they wonder why year after year their phones fail with these crappy designs. Most people buy phones first based on how it looks. Only teckies really care about sp...
?
Apple got design from Sony lol. Sony Xperia omnia desgin introduced by Google first time with nexus 4 that copied iPhone 4. Steve jobs learn from Sony, but didn't copied Sony.