Did you ever want to hold your Nexus 7 tablet up to your ear and make a phone call? Hisense feels your pain, so they made the X1 - a phablet with a 6.8" 1080p IPS display.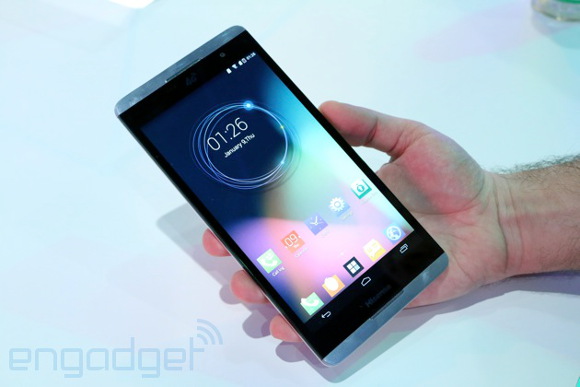 The humongous device will be selling in China before it hits the United States. It packs some pretty appealing specs which include a Snapdragon 800 chipset, 13MP camera, Android 4.4 KitKat, and a generous 3,900mAh battery (although with the size of its display, it certainly needs all of the juice it can get). The only downside is that the Hisense X1 is not LTE capable, just HSPA+.
First-hand use of the device is positive, with accounts praising the viewing angles of the handset's gargantuan screen. The chipset also unsurprisingly provides a stellar user experience. The demo model was packing Android 4.3, but Hisense says that the final product will ship with KitKat on board.
The Hisense X1 is made of plastic which isn't surprising given the company's bottom-dollar value approach, evidenced in their tablets. Handling is as comfortable as can be for a phablet of this size.
Expect the phone to hit the states in late Q2 SIM-free. There is news however, that Hisense is in discussions with two US carriers so if you're looking to subsidize this beast, you may want to wait until a wireless provider agrees to carry the device.
ADVERTISEMENT