Candybar classics
It seems we have no choice but start in Finland. The first and most convenient place for Santa to stop and pick up some gifts on the way. Say what you will about our itinerary but Nokia still knows how to make great phones. And compact handsets in the classic candybar form factor are what the Finns are real good at.
It's no surprise that our absolute favorite in this category is the Nokia X3-02. Combining ultra-sleek looks with great connectivity and a pinch of touch, it's one of the devices to impress us the most over the past few months. Not to mention how marvelously slim it is.
Of course it's not nearly as functional as a high-end smartphone, but it never tried to be. The X3-02 is for the calling and texting kind. And last time we checked those were still the majority of users.
But it's 2010 and touchscreen is essential if you want to be taken seriously. The Nokia X3-02 is the right device for someone who is still not ready for a full-time commitment to touchscreen but willing to find out what the rage is all about.
If we had to point one thing we would change about the Nokia X3-02 it would be the fixed focus camera. But still the X3-02 will be our first choice for a classic candybar.
The runner-up here is another slim Finn – the slick and solid C5, and a smartphone at that. It does better on the functionality end as the Symbian OS is as mature as it gets and there are a few thousand apps available for it (not to mention that Ovi Maps free lifetime voice-guided navigation).
On the other hand the Nokia C5 smartphone user interface is a bit more complicated than the X3-02, which is not a virtue in this class. However it's build quality that eventually made the C5 second in this race – the metal back panel, nicely looking as it might be is a bit too prone to scratches. You will need to protect it carefully if you plan on sticking with the C5 for a while.
QWERTY on a budget
Need to make best use of that unlimited texting plan? Or are you constantly sending emails on the go? A QWERTY handset is in order then and if you don't feel like breaking the bank – this is the place to look.
Simplicity and pricing are key here (there's another chapter dedicated to premium QWERTY messengers) and the logical choice can be no other than Nokia C3 – the socialist. The entry level phone takes social networking seriously and has a comfortable keyboard to let you breeze through texts. It's good at the basics and goes for peanuts.
There's hardly any extra functionality that the C3 can give you but you just cannot match its bang for the buck ratio if you are all about the texting.
Alternatively you can go for the extra muscle offered by the C6, which is still reasonably easy on the wallet. Packing a larger slide-out keyboard it also offers the touch-driven experience, even if S60 5th edition might not be exactly the pinnacle of its evolution.
Still adding a hardware keyboard fixes one of the major Symbian flaws (text input), while downloading an alternative browser from the Ovi store will fix the other (poor stock web browser). Plus it's mostly about texting here and S60 has that pretty decently covered.
Bargain basement smartphones
It's about the pricing with those and the quest of trying to get the most functionality for the price of a dinner for two.
Nokia 5230 seems like the most obvious choice here, giving you 3G, free lifetime navigation and an nHD touchscreen for about 100 euro. If contract-requiring subsidies aren't your game and you are trying to keep your Christmas spending to a healthy minimum, be sure to check this one.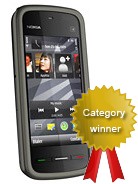 Nokia 5230
The other two ultra-cheap smartphones that deserve your attention are the Eclair-powered Sony Ericsson X8 (capacitive HVGA screen) and LG GT540 Optimus (resistive unit). They do cost about 50 more than the 5230, which cost them the title here but are still viable options as they offer more extra features.