Today, Mint Mobile has a new owner. Famous movie actor Ryan Reynolds has purchase ownership stake in the US carrier. The California-based network offers low-cost data plans with unlimited talk and text to folks who bring their own phones to the network. Mint Mobile is an MVNO that operates on T-Mobile's nationwide LTE network.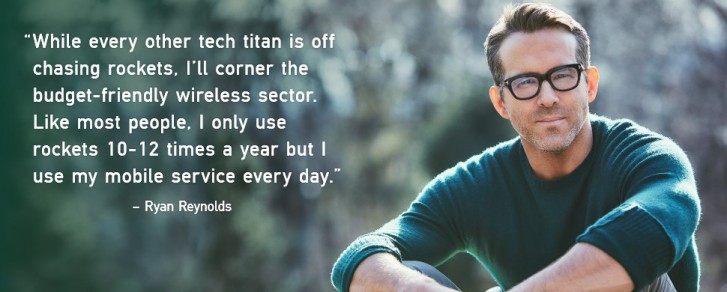 Mint Mobile currently offers a promotion of $45 for three months of service with 12 GB of data per month. You renew your service by paying for a few months at a time, up to 12 months. After the promotional rate, it'll cost $75 to renew the 12 GB plan for three months. Honestly, their pricing structure can be a bit confusing so make sure you do enough research.
It's a bit unconventional which is why I like it. Celebrities generally invest in high-end products like skincare brands or delicious gin companies. Yet Mint is making wireless way more affordable at a time when the average American is paying 65 dollars a month. I'm excited to champion a more practical approach to the most essential technology. – Ryan Reynolds
"Mint Mobile's consumer-centric approach and maniacal focus on generating consumer value has kicked Mint into hyper-growth mode. It's fitting that the most disruptive wireless company is now owned by the most innovative marketer on the planet," explained Mint CEO David Glickman.
True story.

— Ryan Reynolds (@VancityReynolds) November 25, 2019
Reynolds will help Mint's communication team, marketing efforts, and strategic decision making. Reynolds starred in both Detective Pikachu and Deadpool as their respective protagonists.
?
Xfinity Mobile - 3GB shared among up to 5 phones $30 10GB - $60
A
for $1 I can get 3.5Gb data only. and for another $1 I can get UNL talk/text and 1Gb of data but only for 3 days.
Y
Here in Australia I'm paying AU$49.00 for unlimited calls and sms in Australia, Unlimited calls and sms to 35 other countries and 60Gb data. This is a "Build your own" plan that you can customize each month. the more you add the cheaper each fo...