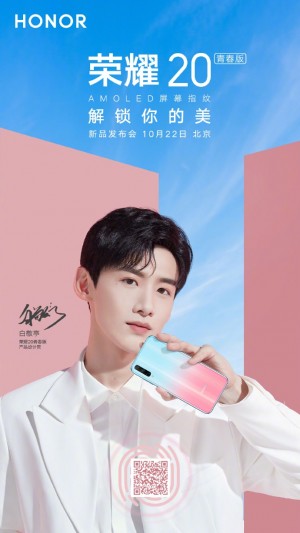 Yesterday we heard that Honor is having an unveiling of the 20 Lite today. It turns out that this was a translation error and the company actually revealed only the launch date of the phone, including a photo of the device with a fancy blue-pink gradient.
The Honor 20 Lite will officially arrive on October 22 with no fingerprint scanners on the back - the sensor will be on the front, under the AMOLED screen.
Having an under-display fingerprint scanner is not a novelty in the smartphone industry, but for some reason, Honor has only one smartphone with the technology - the Magic 2 slider that is available only in China.
The new Honor 20 Lite (not to be confused with the global Honor 20 Lite, sold in China as Honor 20i) will be among a handful of smartphones from the Huawei subsidiary with a non-LCD panel.
Other specs of the phone include a Kirin 810 chipset, up to 8 GB RAM and 256 GB storage. There are three cameras on the back, the main one being 48 MP. The front panel has a 6.3" diagonal and Full HD+ resolution with an unusually tall ratio.
d
I had this on multiple Sony phones. I used my middle finger for my left hand. It worked just fine for me.
W
Well i haven't tried the S10e yet, but i reckon it might be a bit of a stretch in that position. Side fingerprints should always be in the middle for the most convenient use.
D
Will it be difficult to register fingerprints if the fingerprint reader is located at the top or bottom of a side of a smartphone like the S10e?
ADVERTISEMENTS