Magic UI 3 on top of Android 10
Honor's own take on Android is called Magic UI and the latest version 3 is running on this handset, which isn't all that different from Huawei's EMUI. The aesthetics, feel and overall set of features are the same. Which also means that there's no Google Services. You probably already know that and if you are hoping to buy the Honor 30 Pro+ and try to find a loophole to install the full set of Google apps and get Google's services to run, it would be a short-lived victory. There's still no reliable way to do this and it always comes with some trade-offs like not receiving notifications from some apps, for example.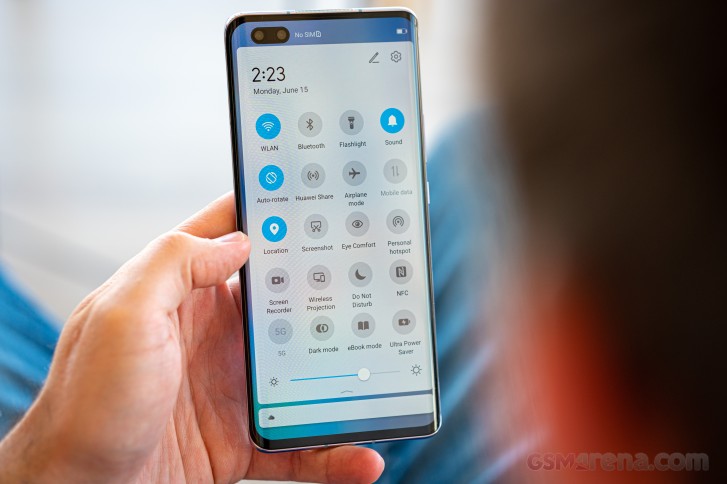 Your best bet for apps is either Huawei's AppGallery, which has a lot of apps but your experience may vary from user to user. However, there are other options, too, such as Amazon's own app store, APKPure, and APKMirror. If you are using only free apps from the Google Play Store, you can rest assured that those can be found on these stores. Side-loading them, though, is going to be a bit of a hassle. And another small complaint about the AppGallery is that there's almost always an ad welcoming you on the home screen and you have to dismiss it. It's not a big deal but it's a bit annoying.
Now onto the good stuff. The UI design hasn't changed a lot since our last review of the Honor View 30 Pro so we were greeted with familiar icons, notification shade, general settings menu and recent apps menu. The notification shade adopts circular, blue icons (if the said toggle is active, if not - it's grayed out), which is quite similar to Google's stock Android appeal and Samsung's One UI. We didn't like the fact that you can't assign a swipe down gesture to bring down the notification shade so you will always have to reach for the status bar and pull. And on a big phone like this one, it's a challenge.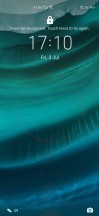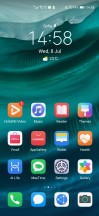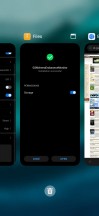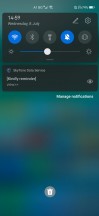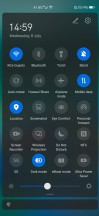 Home screen, recent apps and notification shade
From the recent apps menu, you will be able to either do a split-screen with two apps or make one of them into a small, free-form floating window. The last two seem to be working mostly with the system apps so wider support for third-party apps is expected.
The general settings menu comes with circular icons for each sub-menu and different colors so you can find what you need more easily.
Not a fan of the dual punch-hole? Honor has you covered. You can either opt for the system-wide dark mode hiding the cutout in most scenarios or hide it with a thick black altogether. Your status icons will remain within that black bar, though, so you won't be losing any screen real estate.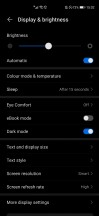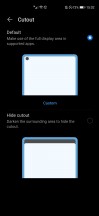 Display settings and cutout hiding
The gesture-based navigation option is on by default, and it's business as usual - swipe from the left or right edge of the screen takes you back, single swipe from the bottom acts as a home button and swipe and hold from the bottom opens up the recent apps menu. Even though there's no navigation bar at the bottom, swiping left and right onto the bottom bezel will perform a quick switch between your current app and the previous one. Another interesting bit is the swipe and hold from either side of the phone. This action opens up a small panel with different apps. You can add or remove apps of your choice. It's something like Samsung's Edge Panel.
Another thing you can set up like on a default Android is the app drawer. EMUI and Magic UI usually come with a simplified home screen with all of the installed apps scattered across your home screens so it's nice to have the option of an app drawer.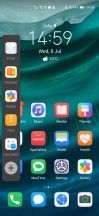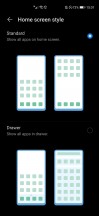 App drawer settings and Honor's own take on Edge Panel
Now a few words about the fingerprint reader. It's reliable, accurate and fast. It's on par with the competition and maybe even challenges the unlock speed of conventional capacitive fingerprint readers. We do have two small complaints, though - it's placed a bit too low requiring some thumb gymnastics to reach for the reader and the fingerprint area itself isn't the biggest one around.
The behavior of the Always-on display is customizable and adequate as well. A single tap will show the current time, battery status, notifications, and the fingerprint reader area. But that's the default state - you can set up different clock styles and even set a schedule when the always-on should turn off.
It's needless to say that this would consume considerably more battery and as usual, Magic UI will give you a couple of handy battery-saving options to offset that difference. You can blacklist apps, activate a standard battery saving mode, and also go to the extreme by flipping the switch of an Ultra Power Saving mode that limits the phone's functionality to, well, just a phone. Reverse wireless charging is also a thing and we are glad to see that feature making its way to a considerably less expensive device compared to Huawei's top-tier devices. Its usability is still in question but it does work well if you are running out of juice on your smart wearable, which happens to support wireless charging too.
And last, but not least, the IR blaster can turn your phone into a remote control for pretty much everything in your home. There's a Smart Remote app that guides you through the process of setting up a remote for your said device - TV, audio system, air conditioner, etc. If the remote uses an IR blaster, it can most probably be cloned on the Honor 30 Pro+.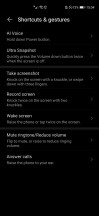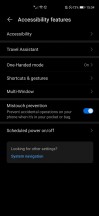 Advanced features and gestures
Performance
The Honor 30 Pro+ is driven by the in-house flagship SoC, the Kirin 990 5G. The chipset is based on the latest 7nm+ EUV manufacturing process and the biggest advantage of this chipset compared to its Qualcomm alternative, the Snapdragon 865 and Samsung's Exynos 990 is the fact that it has an integrated 5G modem.
Other than that, the Kirin 990 5G drags behind the competition in terms of GPU performance and also a little in the CPU department as well. Kirin 990 utilizes an octa-core CPU that consists of two big 2.86 GHz Cortex-A76 cores, two of the same cores but clocked at 2.36 GHz and 4x Cortex-A55 cores ticking at 1.95 GHz. The Mali-G76 MP6 GPU takes care of the graphically-intensive tasks.
The good thing about the current configuration is that the handset comes with 256GB of internal memory as a standard. The available RAM is either 8 or 12GB, depending on model you chose.
Here are the results from the benchmarks and how the SoC stacks against the competition.
GeekBench 4.4 (multi-core)
Higher is better
Xiaomi Poco F2 Pro
13295
OnePlus 8
13291
Honor 30 Pro+
12907
Huawei P40 Pro
12848
Realme X50 Pro
12761
Galaxy S20+ (120Hz, 1080p)
12269
GeekBench 4.4 (single-core)
Higher is better
Galaxy S20+ (120Hz, 1080p)
4873
Realme X50 Pro
4305
OnePlus 8
4256
Xiaomi Poco F2 Pro
4255
Huawei P40 Pro
3942
Honor 30 Pro+
3931
GeekBench 5.1 (multi-core)
Higher is better
OnePlus 8
3399
Xiaomi Poco F2 Pro
3332
Huawei P40 Pro
3197
Honor 30 Pro+
3191
Realme X50 Pro
3175
Galaxy S20+ (120Hz, 1080p)
2703
GeekBench 5.1 (single-core)
Higher is better
OnePlus 8
919
Xiaomi Poco F2 Pro
916
Realme X50 Pro
911
Galaxy S20+ (120Hz, 1080p)
886
Honor 30 Pro+
781
Huawei P40 Pro
780
AnTuTu 8
Higher is better
Realme X50 Pro
592447
OnePlus 8
564708
Xiaomi Poco F2 Pro
538221
Honor 30 Pro+
510031
Galaxy S20+ (120Hz, 1080p)
500114
Huawei P40 Pro
496356
Galaxy S20+ (60Hz, 1440p)
489371
GFX 3.1 Manhattan (1080p offscreen)
Higher is better
OnePlus 8
88
Xiaomi Poco F2 Pro
87
Realme X50 Pro
86
Galaxy S20+ (120Hz, 1080p)
85
Galaxy S20+ (60Hz, 1440p)
85
Honor 30 Pro+
76
Huawei P40 Pro
75
GFX 3.1 Manhattan (onscreen)
Higher is better
Galaxy S20+ (120Hz, 1080p)
75
Honor 30 Pro+
64
Realme X50 Pro
60
Xiaomi Poco F2 Pro
59
Huawei P40 Pro
52
Galaxy S20+ (60Hz, 1440p)
43
GFX 3.1 Car scene (1080p offscreen)
Higher is better
OnePlus 8
52
Galaxy S20+ (60Hz, 1440p)
51
Realme X50 Pro
51
Xiaomi Poco F2 Pro
51
Galaxy S20+ (120Hz, 1080p)
50
Honor 30 Pro+
44
Huawei P40 Pro
44
GFX 3.1 Car scene (onscreen)
Higher is better
OnePlus 8
46
Realme X50 Pro
45
Galaxy S20+ (120Hz, 1080p)
42
Xiaomi Poco F2 Pro
40
Honor 30 Pro+
37
Huawei P40 Pro
31
Galaxy S20+ (60Hz, 1440p)
25
3DMark SSE Vulkan 1440p
Higher is better
OnePlus 8
6720
Xiaomi Poco F2 Pro
6660
Realme X50 Pro
6472
Galaxy S20+ (120Hz, 1080p)
6354
Galaxy S20+ (60Hz, 1440p)
6311
Honor 30 Pro+
5678
Huawei P40 Pro
5637