Android 8.1 has EMUI 8.2 on top
Honor 8X runs on Android 8.1 with EMUI 8.2 - a similar combination to what we saw on the Honor 10 and Honor Play. EMUI is as custom as a launcher can get, so the Android purists may want to look elsewhere for a vanilla experience. The new v8.2 improves the Face Unlock and Gallery with machine learning, there are some new Gaming tricks, and a brand new Party Mode for music playback sync across different devices.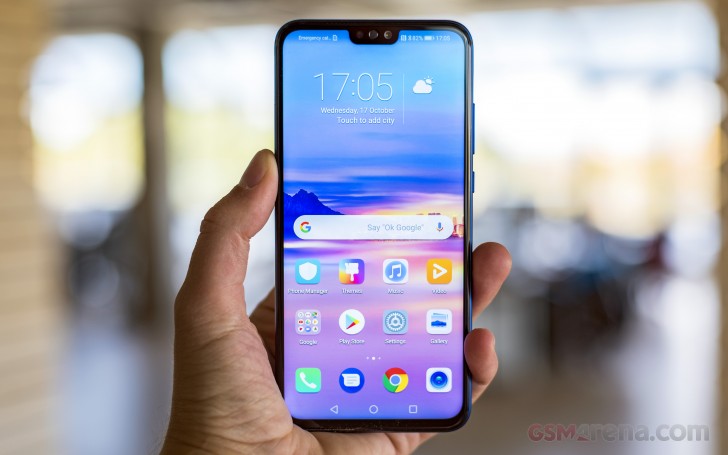 You can either embrace the notch, or you can opt to mask it with a black status bar that extends all the way down to the bottom edge of the notch. You should know, however, that hiding it doesn't really work as well with an LCD panel as with it does with an AMOLED.
Out of the box, there is no app drawer on the EMUI 8 - it's a single tier interface like on the iPhone. However, if you miss the Android's usual layout, you can enable it back in the Display settings. There is also a handy search feature, which can be accessed by flicking down on any empty area of the home screen.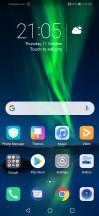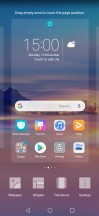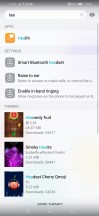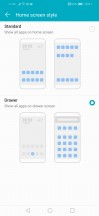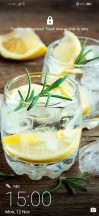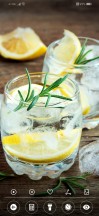 Home screen 1 • Home options • Search • Enable drawer • Lockscreen • Lockscreen
EMUI has Magazine lock screen, as usual, which rotates through a bunch of wallpapers, so you see a different one every time you fire up the display.
Huawei's EMUI offers plenty of customization and features like (not so secure) face unlock, smart rotation, and lift to wake. The face unlock has been enhanced with machine learning (or as Honor likes to call it - AI Power) and will learn to recognize your face even with changes such as facial hair or sunglasses.
Themes are supported, too, and there is a lot to choose from.
The notification shade is pretty much a standard affair. There's a brightness bar with an Auto toggle - pull down again for more toggles.
Multitasking is pretty standard as well. Tap-holding the Recents key will let you activate split screen.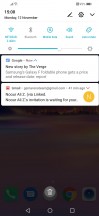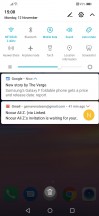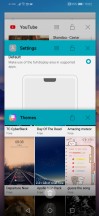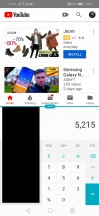 Notification area • Toggles • Recent apps • Split screen
From the Phone Manager app, you can access shortcuts to storage cleanup, battery settings, blocked numbers, Virus scan powered by Avast, and mobile data usage.
Huawei's own Music app is here and offers a way to listen to stored MP3s. Huawei's Health app is also pre-installed. It offers Google Fit syncing and step counting. There's a file manager app and a note-taking app. There is an abundance of replacements for these in the Play Store, however.
There is an improved AI-powered gallery with EMUI 8.2. The app now supports automatic sorting with highlights. The machine learning decides the sorting criteria - location, date, event, etc.
There is an FM radio app, too.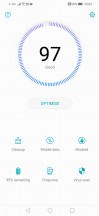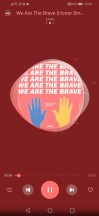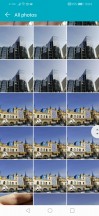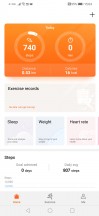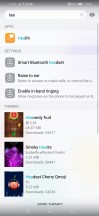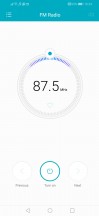 Phone Manager • Music Player • Gallery • Huawei Health • Files • FM radio
The Party Mode is a new feature courtesy of EMUI 8.2. It's available from app of the same name and allows the user to connect to multiple phones to play the same song simultaneously.
Honor 8X will be getting an updated Game Center with a firmware update very soon. It will enable the so-called 4G Smart Shock - dynamic vibrations similar to the ones on the PlayStation's DualShock controller in compatible games. The first game to support this new feature will be PUBG Mobile. But what's already available for games is the 3D Game Sound - this works in various games when using wired headphones and should emulate 3D sound.
Performance and benchmarks
The Honor 8X is the second phone we meet to utilize Huawei's own midrange Kirin 710 chipset. It's made on a 12nm process (its efficiency already proven in the battery chapter) and features an octa core CPU in a 4x2.2 GHz Cortex-A73 & 4x1.7 GHz Cortex-A53 configuration. The GPU is a Mali-G51 MP4. Our review unit has 4GB of RAM, but a higher spec 6GB version will also be available in some places.
The Kirin 710 offers the very needed CPU and GPU upgrades over the old Kirin 65x chips and we are glad Huawei has finally moved on from these.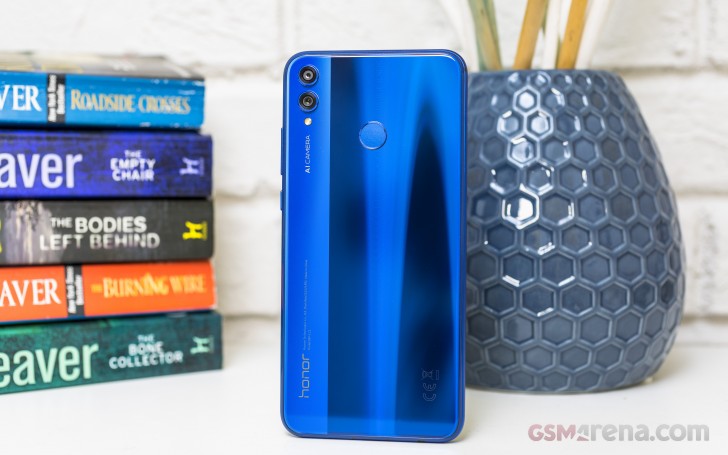 When it comes to single-core CPU performance, the Honor 8X beats the Snapdragon 660-equipped Realme 2 Pro and is a clear step ahead of S636 devices (Redmi Note 6 Pro). However, the Honor Play (Kirin 970) is noticeably more potent.
GeekBench 4.1 (single-core)
Higher is better
Honor Play
1899
Honor 8X
1618
Huawei Mate 20 Lite
1595
Realme 1
1511
Realme 2 Pro
1462
Xiaomi Redmi Note 6 Pro
1342
Huawei Mate 10 Lite
913
Huawei Honor 7X
904
Xiaomi Mi A2 Lite (Redmi 6 Pro)
881
Xiaomi Redmi 6
820
Xiaomi Redmi 6A
819
Realme 2
790
When all cores work together the Honor 8X is a match for the Helio P60 (Realme 1), not the far behind from the Honor Play, and beats the rest of the competitors. The Kirin 710 processor is indeed a massive improvement over the Kirin 659 (Mate 10 Lite, Honor 7X).
GeekBench 4.1 (multi-core)
Higher is better
Honor Play
6696
Realme 1
5741
Honor 8X
5651
Huawei Mate 20 Lite
5574
Realme 2 Pro
5531
Xiaomi Redmi Note 6 Pro
4933
Xiaomi Mi A2 Lite (Redmi 6 Pro)
4388
Realme 2
3881
Xiaomi Redmi 6
3639
Huawei Mate 10 Lite
3603
Huawei Honor 7X
3535
Xiaomi Redmi 6A
2450
In the graphics department, the Honor 8X outperforms all rivals but the Honor Play with the flagship-grade Kirin 970 chip on the first test. GFX Car Chase score puts the Honor 8X and its GPU on par with the Adreno 512 inside the Snapdragon 660 chipset (Realme 2 Pro).
GFX 3.1 Manhattan (onscreen)
Higher is better
Honor Play
36
Honor 8X
13
Huawei Mate 20 Lite
13
Realme 1
12
Realme 2
12
Realme 2 Pro
12
Xiaomi Redmi 6
11
Xiaomi Redmi Note 6 Pro
9.7
Xiaomi Redmi 6A
7.4
Xiaomi Mi A2 Lite (Redmi 6 Pro)
6.1
Huawei Honor 7X
4.7
Huawei Mate 10 Lite
4.6
GFX 3.1 Car scene (onscreen)
Higher is better
Honor Play
21
Realme 1
7.5
Realme 2 Pro
7.2
Honor 8X
6.7
Huawei Mate 20 Lite
6.7
Realme 2
6.3
Xiaomi Redmi Note 6 Pro
5.9
Xiaomi Redmi 6
4.8
Xiaomi Mi A2 Lite (Redmi 6 Pro)
3.4
Xiaomi Redmi 6A
3.1
Huawei Honor 7X
2.8
Huawei Mate 10 Lite
2.7
The clear distinction between the different chips is summarized in AnTuTu 7 with the Honor 8X scored better than the S660-powered Realme 2, whilst was on par with the Helio P60-rocking Realme 1. And it is way ahead of the older Kirin chips.
AnTuTu 7
Higher is better
Honor Play
204876
Realme 1
138524
Honor 8X
137276
Huawei Mate 20 Lite
136583
Realme 2 Pro
132958
Xiaomi Redmi Note 6 Pro
115605
Xiaomi Mi A2 Lite (Redmi 6 Pro)
77964
Realme 2
75434
Xiaomi Redmi 6
75182
Huawei Honor 7X
67636
Xiaomi Redmi 6A
61660
Kirin's latest cost-efficient chipset is a very close match for the Snapdragon 660. There is not much heat build-up on the Honor 8X even at peak loads and it rarely throttles, if at all. So, the Kirin 710 is a welcome addition to Huawei's low and mid-range series and we are happy to have it on the Honor 8X.