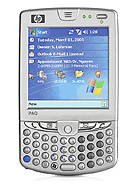 n
This phone is great....................................... As the great stan lee would say......NUFF SAID!
s
Can i connect with the criddle to my laptop, somehow I am not able to configure that..Can anyone suggest, how its done
a
It has pretty decent specs, but the device is pretty slow and hanngs a lot considering it has a very speed processesor, there is something wrong in its software... And can hp do without the keypad it so that it can have a big screen like hp previous pda phones... WAKE UP!!!! HP.....this is pda phone is a failure!!!!!!!!!
J
just got this PDA for a week. its a standard PDA. with software side, it performed a bit slow with compare to O2 XDA Mini. maybe is due to the processor speed.

there is one disappointed point. i bought this phone is due to the keyboard, so that i can write sms, search contact etc with only one hand. but when i perform all this with one hand, it seems like can not hold it properly, becoz the "OK" key was on the lower right.. hard to explain, just to try with a demo unit... then u will realise it..
L
Real cool device, but installign gps can be pretty challenging.Gprs is greatt with d device. personally i will rate this device 5 on a scale of 1-10.
j
Bought the phone a few months ago...sweet...a tad slow but...still works pretty well...if you're looking for a pda/phone and is sick of wielding the damn stylus everytime you recieved an sms...this is it...by the way, the camera is useless in low light conditions..and most softwares are difficult ( or bot possible at all) to use due to its "squarish" screen limitation... and if you're in the Philippines..it's P42,000.00 bucks maaan!

t
HW6515 is a greatest PDA Phone so far by its size and GPS reciever built in. No wifi but Edge connection a more than good enough to check email or quick download from internet and no need to hunt for hot spot. Still hungry for wifi? SD Wifi card is an alternate option since this has dual SD slots. Dressing up with Vaja case will look very owsome...It's coming out soon though.
T
Thanks people, I was about to buy this charm-looking phone, but just discoverred its disadvatages here. I'd wait for the Sony Ericsson P990, but could be at higher price :)
?
Prospective buyers,

(previously owned O2 Mini prior to switching to HP6515)

Several worthy point to watch:
The normal pocket pc themes will be displayed half when chosen as today screen however there is theme generator software to fix this problem slightly.

The colour saturation of the display is not as nice as O2 mini

The thumbpad light is strong enough in dark environment though abit small. respons quite good.

The camera flash is good and better quality picture then o2 mini which have 1.3mp as well, though personally i don't like the camera screen prior to taking pics.

Mp3 sound quality better and louder than O2 mini

cheers!!!
b
Halley Walley,

I bought this Phone, thinking about the GPS receiver and Thumboard and Square display. However, after using it for the first 30 days, I was slowly discovering the cons of this phone. Firstly, Yes, when you type fast with the thumbboard, the phone will not register/recognize the last letter u typed. But that is when u type it fast. But who don't? when they're accustomed to the feel of the keys already? Secondly, you could not really see the lighting behind the keys in dark environment. Well you can see, but only the top half. Thirdly, just compare the Display of this particular phone with O2 mini or XDA. you will notice that, if you install new wallpaper or themes, this phone will not show its full size, thus cutting half the picture. Well, compare it if u don't believe me. And, the speaker sound is rather soft, you can hardly hear anything in a crowded environment. TRUST me on all these. I used it, gave it a fair try and I finally exchanged this phone with W800. The good side of it. Well, This phone PDA features (of course, its Windows Mobile 2003 SE.) like tasks, and other to-do-list. ANd YES it has low battery life. I even turned the brightness to the lower, and it still consume the battery very much. Using bluetooth and GPS will further erode the batt's life. For those of you thinking of buying this Phone. Well, I don't object it, since you will be curious anyways, But i do advice you guys to look for Treo 670 in future or P990 and Nokia's recently announced E61.
A
I just bought the phone last month.The battery run out very fast. when on the phone,it is about 3/4 day the battery left on 10%.
H
hello guys, may i know is this handset really have poor thumbboard responsiveness and very low battery life?
Total of 255 user reviews and opinions for HP iPAQ hw6515.