HP is currently in the process of testing a new Android device, though this isn't a low-end tablet like most of the company's such offerings in recent times.
The HP Red has been put through the paces of GFXBench recently, and as a consequence we now know a little bit about its specs.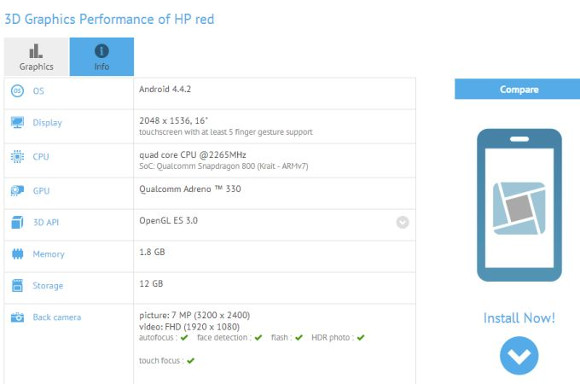 And they are pretty puzzling. The Red runs Android 4.4.2 KitKat, and it's powered by the Qualcomm Snapdragon 800 chipset with a 2.3 GHz quad-core CPU. It has 2GB of RAM and 16GB of internal storage space.
Its rear camera is most likely an 8MP unit, while the front-facing snapper has to make do with 2MP resolution.
So up until now, you might be thinking that this could very well be a smartphone or a tablet. Well, not quite. See, the HP Red has a 16-inch screen (with 2048x1536 resolution).
And that's a bit baffling. What could this be, then? A huge tablet? A convertible laptop of some sort? An All-in-One desktop computer? Perhaps there's a chance that it's any of the above, but nothing is certain right now.
What makes things even more complicated (and seems to invalidate the 'desktop' theory) is that the HP Red has an accelerometer, barometer, compass, NFC, pedometer, proximity sensor, and even GPS. While some of those may be of some use in a tabletop computer, some would make no sense in such a product.
Obviously, there's a small possibility that GFXBench got confused and listed too many sensors, or this could simply be an experiment that never sees the light of day. Should it, though? Is a 16" Android device something people would actually buy? We'll only find out if HP decides to officially out the Red.
Source | Via 1 (in Chinese) • Via 2 • Via 3
?
HP & Google need to do new thinner 14"inch tablet for rivals, how contain this specs : 1.Display.- 14"inch QHD+ - IGZO & IPS-NEO - LED-Backlit 2.Memory.- 4 GB RAM 3.Chipset.- Tegra K1 64-bit 4.Camera.- 5 MP 1080p@60fps f...
n
who are you?HP CEO? Lol you must be working for HP
?
that's new great thing of HP 16 inches tab, but I like much that's to be 7mm thinner and contain this basic specs: 1.Display.- 16" FHD - IGZO screen and LED-Backlit - 160 ppi 2.Memory.- 3 GB RAM minimal 3.and not to have the heat proble...