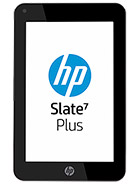 V
Out of the box, no sound. Replacement, a "factory" repaired one, arrived within 10 days and it works as expected. I´ve got what I ordered, eventually.
A4
Got it on boxing day,amazing bang for the $$$$
H
got it before christmas in 2013 for 150e and its 9/10
its fast, strong, reliable and does everything i want it to, wish to have sim card slot thats why i give 9/10, its strong as well i droped it from stairs and it land on tiles, not a scratch after:) and it works plus i manage to stand on screen but it took it well and nothing happpend. will Definitely recommend
R
Rahul, 05 Dec 2013Tegra 3 has a dual core variant ??????Corrected now...
i1
its really a quad-core chip as stated on the official hp website, looks like gsm arena just made a small error
Total of 7 user reviews and opinions for HP Slate7 Plus.