HP's new Powerup Backpack is capable of charging your smartphone up to 10 times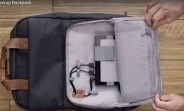 HP has unveiled a backpack that is capable of charging your laptop, tablet, as well as smartphone. Appropriately dubbed Powerup Backpack, the canvas bag has a 22,400mAh battery inside that the company claims provides a full charge to most HP laptops, charges a tablet up to three times, and a smartphone up to 10 times.
The Powerup Backpack also lets you control the order in which your devices charge. There's also a built-in heat sensor that monitors the temperature to make sure the bag doesn't get too hot. A side-pocket plug-in makes the backpack easy to recharge.
As for price, the backpack carries a tag of $199 (this includes two USB micro cables for Android devices and one laptop cable). It is currently available to pre-order on Amazon, with launch set for October 1.
R
I have been rocking an Incase Icon for years thats been doing the exact same thing. Only the Incase is way better designed and holds way more stuff.
D
It always makes me laugh to see the companies taking 2 separate things, putting them together and charging a lot more than it's actually worth. Can someone enlighten them, that for $50 you can have the same setup? And it's not an engineering feat to ...