Google Calendar gets an update for Goals that automatically fit your schedule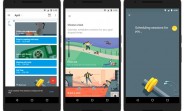 Google has updated Calendar for Android and iOS to support goals. Tapping the plus icon in the right hand corner now allows you to add various goals to your daily schedules and best of all - Google automatically finds the best time for them.
Calendar is smart enough to automatically reschedule if another event pops up that's in a direct conflict with a goal. Naturally, you can also postpone (defer) a goal, if now's not the time for it.
Google also boasts that the Goals feature will learn with time and make even better adjustments to fit your daily schedule.
You can expect the update to become available starting today, but it may take a couple of days to show up.
f
is google hinting something??? i kinda noticed the the same thing in kung fu panda 3 with the 2 dads thing