Well, I'm starting to understand why HTC may be considering a cheaper version of the HTC 10 - one Romanian phone retailer is charging RON 3,300, or $830/€740, for a pre-order. This is for the 32GB version, which is available in Gold, Silver and Grey.
The phone is expected to go on sale April 15 so this price may not be final, but it's likely fairly close. And if that's true, the 10 will cost more than the Samsung Galaxy S7 and the LG G5 and as much as a basic iPhone 6s.
Not that this is uncharacteristic of HTC, but the company needs to generate revenue, so it can't afford to scare away potential buyers with a steep price tag. It's already at a disadvantage for launching so late.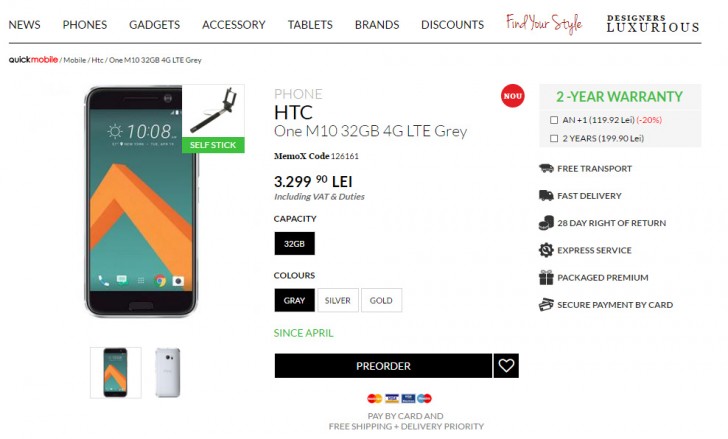 The HTC 10 will take the rounded aluminum design of the A9 and spruce up the specs to flagship level - 5.15" QHD screen (LCD probably), Snapdragon 820 chipset with 4GB of RAM and a 12MP camera.
Thanks to Claudiu and Mihai for the tips!
s
Well April 15 has come and gone and, as usual, QuickMobile doesn't deliver on its promise. This is to be expected from such an unreliable store. They specialize in providing products from God knows where, the Orient and other parts of the world, with...
m
Quick mobile is selling the medium version, the Snapdragon 625 version not the 820 one, and the colors are all wrong...
D
Well, you're right. But they (quick mobile) get away with it, RMA service from PcGarage it's not happy to deal with them either, but the top management doesn't care, they just want to sell no matter what. You can receive you best treatment from Gersi...
ADVERTISEMENTS