Software
HTC has rethought the way it does software with the latest Sense. It's easier to adapt to users' needs and it's also leaner.
The HTC 10 UI can be customized with one of the thousands of available themes, and you can create your own by mixing and matching parts you like or just using a photo as a base.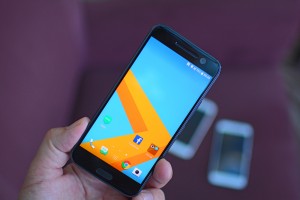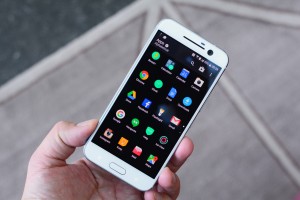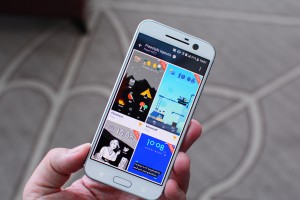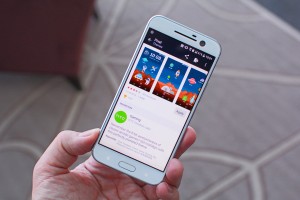 Latest HTC Sense offers many themes and free-form layout on the homescreen
The "Freestyle Layout" does away with the familiar grid of icons and lets you place each icon, widget, and even stickers wherever you please, even overlapping each other. Hey, your desk is messy, why not your homescreen?
Something we appreciate is that HTC looked at the app package and removed duplicates by picking the best app for each function, whether it was an HTC-made app or it comes from the standard Google package. Google's apps have significantly improved in quality recently, but some maker apps still offer additional features.
You'd think that having fewer apps will use less storage, but on the 32GB phone you get about 23GB available (and 52GB on the 64GB version).
Anyway, the streamlining continues with a secret auto-optimization algorithm that launches apps twice as fast as the One M9. Boost+ helps by limiting power use by background apps and balancing performance and power draw for games.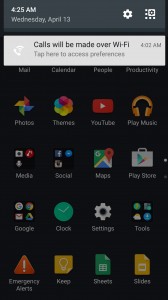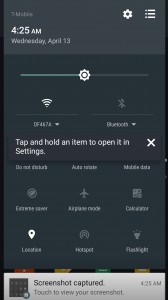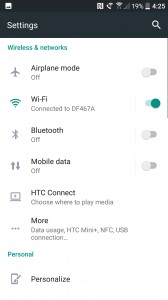 Notification area and settings
The fingerprint reader can secure the lockscreen, obviously, but App Lock gives you finer-grained control by letting you lock individual apps. The fingerprint reader needs just 0.2 seconds to do its job.
By the way, HTC has improved the responsiveness of the touchscreen by as much as 50% compared to the One M9. This makes the HTC 10 more adept in tracking your finger across the screen.
Benchmarks
HTC 10 is powered by the latest Qualcomm chipset - the Snapdragon 820. It has a quad-core Kryo processor by Qualcomm design, an Adreno 530 GPU, and 4GB of RAM. Naturally, the processor allows two Kryo cores to tick at 2.15GHz and the other pair to work at 1.6GHz.
We've already seen the Snapdragon in action within the Xiaomi Mi 5 and the LG G5, and we know it performs great. Regardless of the screen resolution used (1080p or a 1440p), the S820 chip delivers flagship performance.
Yesterday, at the HTC 10 announcement, we didn't have enough time to run some tests, but now that we have the device at our disposal, we ran all sorts of benchmarks.
Indeed, a single Kryo core is a beast, and currently it's one of the best solutions on the market together with Apple's Twister CPU. The single-core performance is crucial for smooth OS operations, and the Kryo cores are up to the task.
GeekBench 3 (single-core)
Higher is better
Apple iPhone 6s
2542
HTC 10
2368
LG G5
2328
Xiaomi Mi 5
2305
Samsung Galaxy S7
2170
Huawei P9
1819
Samsung Galaxy S6
1490
The multi-core score isn't as impressive, because there are four Kryo cores inside the Snapdragon 820, while the Kirin 955 in Huawei P9, or the Exynos chip inside the Galaxy S7 feature octa-core processors. Still, considering the number of cores, we could easily consider those points as an excellent grade.
GeekBench 3 (multi-core)
Higher is better
Huawei P9
6558
Samsung Galaxy S7
6360
LG G5
5362
Xiaomi Mi 5
5358
HTC 10
5257
Apple iPhone 6s
4427
Sony Xperia Z5
4017
HTC One M9
3761
HTC One (M8) Lollipop
2923
The HTC 10 easily aced the AnTuTu 6, and it bested the rest of its siblings by a huge margin. Since the HTC 10 has similar hardware to the LG G5, we guess some software optimizations are the reason for the great performance.
AnTuTu 6
Higher is better
HTC 10
154031
LG G5
134541
Samsung Galaxy S7
132084
Xiaomi Mi 5
131758
Apple iPhone 6s
129990
Huawei P9
98069
HTC One M9
73021
The BaseMark OS II compound bench outed an oddly low score, which makes us believe there might be some problem with the app itself and the new Sense UI. We'll redo this test when possible.
Basemark OS 2.0
Higher is better
Apple iPhone 6s
2195
Xiaomi Mi 5
2180
Samsung Galaxy S7
2128
Huawei P9
2068
LG G5
2065
HTC 10
1839
Sony Xperia Z5
1482
HTC One M9
1365
HTC One (M8) Lollipop
1186
HTC 10 uses the latest Adreno 530, which is the best GPU on the market right now. The offscreen GPU benchmarks below prove that.
GFX 3.0 Manhattan (1080p offscreen)
Higher is better
HTC 10
47
LG G5
47
Xiaomi Mi 5
45
Apple iPhone 6s
39.5
Samsung Galaxy S7
38
Sony Xperia Z5
24
HTC One M9
23
Huawei P9
18
HTC One (M8) Lollipop
12
GFX 3.1 Manhattan (1080p offscreen)
Higher is better
HTC 10
31
Xiaomi Mi 5
30
LG G5
30
Samsung Galaxy S7
28
Sony Xperia Z5
18
Huawei P9
10
GFX 3.1 Car scene (offscreen)
Higher is better
HTC 10
18
Xiaomi Mi 5
17
LG G5
16
Samsung Galaxy S7
15
Huawei P9
6.5
Running the GPU test on the native 1440p resolution takes a serious toll on framerates, but they remain flagship-grade. The Mi 5, which has the same GPU but runs on 1080p, expectedly does better here.
GFX 3.0 Manhattan (onscreen)
Higher is better
Apple iPhone 6s
53.6
Xiaomi Mi 5
43
HTC 10
28
LG G5
28
Samsung Galaxy S7
27
Sony Xperia Z5
25
HTC One M9
24
Huawei P9
19
HTC One (M8) Lollipop
13
GFX 3.1 Manhattan (onscreen)
Higher is better
Xiaomi Mi 5
29
Sony Xperia Z5
19
HTC 10
15
LG G5
15
Samsung Galaxy S7
15
Huawei P9
11
GFX 3.1 Car scene (onscreen)
Higher is better
Xiaomi Mi 5
17
HTC 10
9.9
LG G5
8.8
Samsung Galaxy S7
7.9
Huawei P9
7.1
In the BaseMark X GPU test the HTC 10 scores on par with its chipset sibling - the LG G5.
Basemark X
Higher is better
Xiaomi Mi 5
33110
Samsung Galaxy S7
32345
LG G5
29456
HTC 10
28882
Sony Xperia Z5
23923
HTC One M9
19848
Huawei P9
16942
HTC One (M8) Lollipop
12257
The HTC 10 scores speak for themselves - the new flagship delivers a stellar performance, and we expected nothing less from a Snapdragon 820 smartphone. The chip is sure to serve the HTC 10 hassle-free for the years to come.