HTC seems to have pulled the Oreo update for its 10 smartphone. The update was made available last week, both over-the-air as well as through RUU download. But a quick look now reveals the RUU link has been taken down and reports say users didn't receive any OTA notification as well.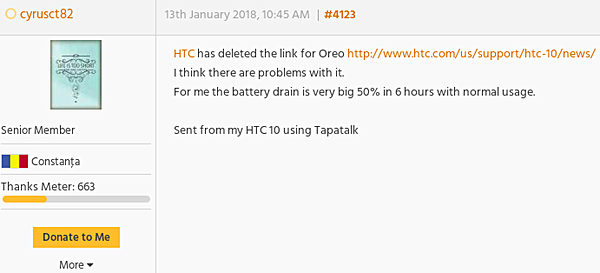 Many of those who managed to manually install the update have also been reporting battery issues and other problems, so it appears the build wasn't ready for prime time anyway. There's no information on when the update will be made available again.
Huge problem with battery drain since the automatic upgrade of my 10. Battery charge level drops even when on charge. Initially got rather hot too which was uncomfortable!
24 hours since update, all good. https://www.youtube.com/watch?v=KQyGiuvh4I4 Some screenshots
Hi. Those who updated their HTC , did you get the new Sense UI as well? I mean, is it updated also? If not, will it be updated to the newest one like on the U11? Thanks.