HTC 10 storage read/write speeds are below average with other 2016 flagships
When working with the HTC 10, we noticed something peculiar. The time that it took to transfer sample photos from HTC 10 to our PC definitely felt much slower than transferring photos from the LG G5 or the Samsung Galaxy S7 edge. We thought it'd be interesting to measure how these phones perform in reading and writing speeds on the internal memory.
The HTC 10 uses the more conventional Embedded Multi-Media Controller (eMMC) 5.1 NAND memory, which, when compared to Samsung's Universal Flash Storage (UFS) 2.1 NAND, is significantly lower in read/write performance than the newer UFS 2.1 standard of flash memory. The Samsung Galaxy S7 edge and the LG G5 both use this UFS memory.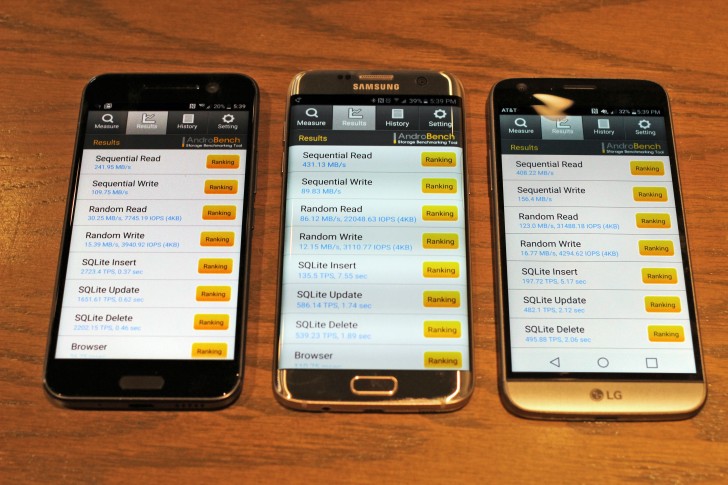 We ran the popular memory Benchmark AndroBench in order to find out just how the three flagships compare in 4 different memory tests: Sequential read (which measures the speed of reading a single file), sequential write (measures the speed of a single file being saved onto the memory), random read (speed of memory when reading data from multiple locations at once), and random write (speed of writing to multiple locations at once).
These tests help to determine how the phones might perform under certain conditions and explains why a phone often slows down when there are too many background processes performing work all at once.
Sequential Read, MB/s
Higher is better
Samsung Galaxy S7 edge
431.13
LG G5
408.22
HTC 10
241.95
These sequential read numbers clearly show how much faster the new UFS memory technology is when compared to the eMMC 5.1 standard found in the HTC 10. The HTC 10 yielded 44% slower results than the Samsung Galaxy S7 edge did in this regard.
Sequential Write, MB/s
Higher is better
LG G5
156.4
HTC 10
109.75
Samsung Galaxy S7 edge
89.83
The HTC 10 runs right in the middle of the other two flagships in the sequential writing test. The highest scoring device in this category was the LG G5 at 156.4 MB/s and the lowest was the Samsung Galaxy S7 edge at 89.83 MB/s. Sequential writing is performed when transferring a file from one folder to another, for instance.
Random Read, MB/s
MB/s, Higher is better
LG G5
123.0
Samsung Galaxy S7 edge
86.12
HTC 10
30.25
In the random read test, the HTC 10 performed much slower than the other two flagship devices. While random performance is dependent on a number of factors, the phone would still be significantly faster if it had UFS type storage instead of eMMC. The random reading speed of the HTC 10 was 30.25 MB/s while the LG G5 and Galaxy S7 edge both scored 123 MB/s and 86.12 MB/s, respectively.
Random Write, MB/s
MB/s, Higher is better
LG G5
16.77
HTC 10
15.39
Samsung Galaxy S7 edge
12.15
The HTC 10 came up second in the random write speed tests. However, these flagships are pretty close to each other when it comes to this test.
We wouldn't want our readers to get the wrong message. The HTC 10 is still blazing fast in every day performance. UI, launching apps, and such are all still exceedingly snappy for day to day. However, we just want you to know that if you really did want to get a phone that works faster in this aspect, you have a couple of other choices.
D
Well you have a point but if the HTC 10 does not differ in terms of camera quality, I don't see the advantage as well. From what we know s7, g5 or the HTC 10 all have comparable quality in camera.
H
Any mirco sd card inserted with the test?
ADVERTISEMENTS