Introduction
Every year phone manufacturers make the ultimate attempt at creating the perfect smartphone. HTC is no different and in 2016 presents us the 10 - its version of a full smartphone package experience without compromise.
And we admire this, as the company has been through a rough patch over the last few years. You'd never know this by looking at the HTC 10, though. The full-metal unibody design that's wrapping a 5.2" QHD display and housing a Snapdragon 820 chipset is anything but a hallmark of a sinking ship.
Key specifications

5.2"1440x2560 pixels

12MP 2160p

1.7GHz Snapdragon 820

4GB RAM 32/64 GB memory

3000mAhLi-Po
The HTC 10 is now here to hopefully break the chain of bad decisions that had led up to here. It's a proper flagship with hardly any shortcomings - it has better cameras, front facing OIS, superb build quality, great performance, Hi-Fi audio, booming sound quality, and battery life that meets or exceeds expectations.
Design and build quality
The HTC 10 is beautifully designed, there is no doubt about it. Its industrial lines and heavy construction bring us back to the early-Android days with phones like the Nexus One and the EVO 4G.
There's a chamfered corner that goes all the way around the back. The tapered edges not only help with ergonomics but also give the HTC 10 its sharp, industrial looking lines.
There's no IR blaster, but the plastic that sits on the top of the device enhances antenna connectivity. All physical buttons live on the right side of the phone and they're nice and tactile.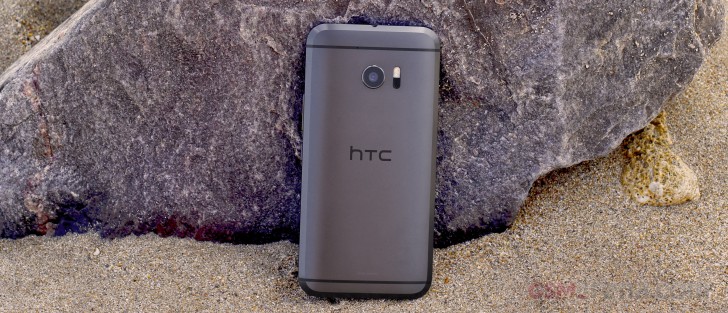 The home button also doubles as a fingerprint scanner, which can be used to wake the phone from sleep. Just like on the HTC One A9, this sensor doubles as a home button, but it is not a mechanical button, rather just a capacitive key. We are glad there is no branding on the front of the HTC 10.
Sadly, the HTC 10 isn't dust or water-proof, though it has IP53 certification.
Display
After two iterations of HTC flagships using a 5-inch 1080p screen, HTC finally bumped up the resolution to the 1440 x 2560px category. There is also a slight size bump of 0.2 inches. The display also features curved edges crafted from Corning Gorilla Glass 4, though, these edges are so subtle that you have to specifically look for them to notice.
The maximum display brightness of the HTC 10 of 428nits isn't impressive and could be problematic in direct sunlight. However, colors don't shift when turning the screen about, but there is a variation in contrast when viewing the screen from an angle.
Contrast is also excellent at 1543:1 thanks to low blacks and low max brightness.
The HTC 10 offers two settings for viewing colors, the default setting is Vivid and you can change it to sRGB, which makes the screen just a tad warmer for more accurate looking colors. Both "Vivid" and sRGB offer a color temperature slider to tune the color profiles to your liking.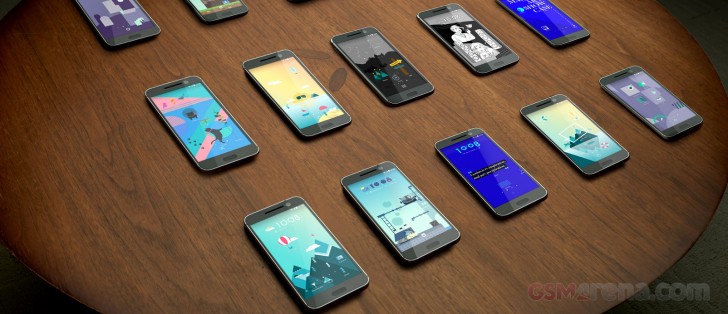 The default "Vivid" setting yields an average DeltaE or 5.7 with a maximum DeltaE of 10.9. The best color representation, which we were able to squeeze out by using the available adjustment settings improved the color rendition deviation down to an Avg. DeltaE of 2.9 and max DeltaE of 5.8.
Battery life
The HTC 10's battery has got a minor increase in capacity from 2,840mAh in the One M9 to 3,000mAh. Compared to the One M9, this modest bump of capacity in collaboration with Marshmallow's battery optimization were able to offset the increase in resolution (1440p up from 1080p) and screen size (5.2" up from 5.0").
To sum it up, тhe HTC 10 scored a 66h endurance rating due to an overall average in all tests. For starters, the HTC 10 scored a calling time of 20:42, just two minutes below the One M9. Video and browsing tests offered a rather significant improvement up from the One M9 at 8:42h for video and 9:08h of browsing, whereas the One M9 scored less with 7:31h of browsing and 8:21h of video playback.
Such usage pattern may not be relevant to your own usage scenario, but we've established it so our battery results are comparable across devices. You can adjust the formula to better match your own usage pattern, by visiting our dedicated battery test results page.
We've depleted the HTC 10's battery to 0% and hooked it up to the QC 3.0 charger for exactly 30 minutes and our unit was able to reach 50% on the dot.
Audio
The BoomSound speakers on the HTC 10 scored the lowest in our loudness test between the LG G5 and the Galaxy S7. This is the case with phones nowadays as dual speakers are usually optimized for sound quality rather than loudness.
The flagship delivered an impressive output when used with an active external amplifier, getting top marks for clarity and garnishing them with nicely high volume levels. Degradation caused by headphones is minimal too with a minor hike in stereo crosstalk being the only change. Volume remained very high and clarity was still great.
Photo camera
The camera department of the HTC 10 is upgraded with the so-called UltraPixel 2.0 camera. It's a 12MP sensor that has 1.55µm pixels but about 3 times as many pixels as the original 4MP sensor from the One M7 and One M8.
The UltraPixel 2.0 comes with Optical Stabilization System (OIS), which lacks on the Nexus phones. It also has an f/1.8 aperture, as opposed to f/2.0 on the Google-commissioned phones. The dual-tone LED flash is another special feature.
The HTC 10 performs well in many various settings of light. Some of these shots were in bright sunlight, and others, starting from the fountain, onward, were taking after the sun began setting.
In some situations, the HTC 10 fails to represent the dynamic ranges in lighting such as when there is light coming from behind the subject. The Galaxy S7 edge performs better in this regard.
Don't get us wrong, the HTC 10's camera met and exceeded our expectations. We are simply putting it to a standard that it set for itself when HTC was teasing its camera. DxOMark gave both the HTC 10 and Samsung Galaxy S7 edge the same score of 88 though we're inclined to disagree as from our experience the S7/S7 edge duo has the upper hand.
Video camera
The HTC 10 can pump out 720p, 1080p, or 4K videos all in 30fps, unfortunately, it does not look like there is a 60fps option on any of the video resolution settings. The 1080p videos are extra smooth thanks to the added benefit of the electronic image stabilization. It takes a slight toll on the camera's field of view, but you can always turn it off if that bugs you.
4K videos look great and the same color representation is maintained just as the HTC 10's photos. Details are excellent and OIS is working hard during video recording to bring us these details. In 4K mode there is no electronic image stabilization as is the case with many phones that shoot 4K these days.
Software
HTC's Sense UI has been simplified a lot. Today, HTC says they've trimmed all the fat from the Sense UI, meaning they've gotten rid of some of the redundant applications that co-existed with Google's editions of such apps like HTC Internet, Fun Fit, Scribble, and Polaris Office. These apps were replaced with Chrome, Google Fit, Google Keep, and Google Docs, respectively.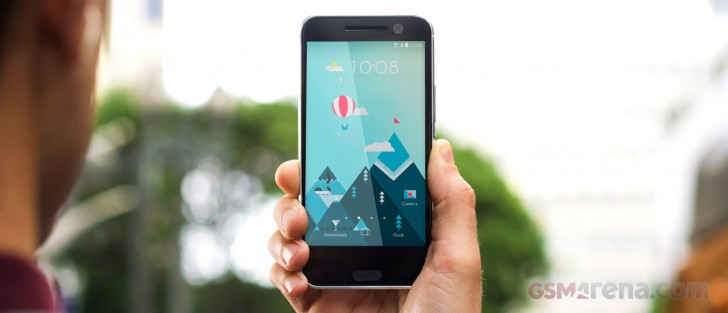 What's interesting about the HTC Sense skin this time is seeing how minimal it has become when compared to previous versions. The settings and quick toggles have been minimally skinned and mostly come with a stock-Android look with just a bit of sprucing up here and there.
Benchmark performance
The HTC 10 is powered by a Snapdragon 820 CPU with two Kyro cores clocked at 2.15GHz & two Kyro cores clocked at just 1.6 GHz. The Snapdragon 820 is the first CPU for which Qualcomm finally decided they didn't need more cores but better ones. The new chipset is paired with generous 4GB of RAM and a dedicated Adreno 530 GPU for graphics.
Indeed, a single Kryo core is a beast, and currently it's one of the best solutions on the market together with Apple's Twister CPU. The single-core performance is crucial for smooth OS operations, and the Kryo cores are up to the task.
The HTC 10 scores speak for themselves - the new flagship delivers a stellar performance, and we expected nothing less from a Snapdragon 820 smartphone. The chip is sure to serve the HTC 10 hassle-free for the years to come.
Wrap-up
The HTC 10 is a hit. It took the best parts of its predecessors and refined them into a single package that will have the other competitors sweating.
The HTC 10 is a compelling device with lots of processing power, beautifully designed and sturdy hardware, great camera performance, fast and accurate fingerprint scanner, and excellent audio quality both via the speakers and the headphone jack.
We are getting to a point in the mobile industry where the line of compromise is fading away. However, that line is still somewhat visible in the HTC 10. Its battery life score is not bad, but we've seen even better numbers for the previous HTC flagships.
HTC 10
Pros
Cons

Solid build quality
Sharp 5.2-inch QHD screen delivers pleasantly punchy and vibrant colors
Impressive 12MP shooter, especially for stills
Snappy performance on slimmed down HTC Sense UI

Comes at a hefty price
No dust or water-proofing
Also consider
Lately the Galaxy S7 edge has been spotted on eBay unlocked for less than the pre-order price of the HTC 10 offering more than the S7 with its bigger battery, larger screen, and edge features. Just as mentioned above, the S7 edge has more value-added features that make the HTC 10 difficult to choose over it at the current price levels.

The LG G5 offers a similar software experience but a different type of hardware package. The G5's modular design lets you swap the battery, add Hi-Fi audio, or a camera grip. Also the dual camera with wide angle lens offers something unique that no other competitors has. The average battery life of the LG G5 is perhaps its only downside.
Overall, we are glad HTC has finally started believing in itself. This time around they come more prepared and more attuned to the user needs than ever before in recent history. Hopefully, the HTC 10 will put the company back on the flagship smartphone map.
HTC 10
Total GSMArena score
4.4 / 5
| | | |
| --- | --- | --- |
| Design and build quality | | 3.5 |
| Display | | 4.0 |
| Battery life | | 4.0 |
| Audio | | 4.5 |
| Photo camera | | 5.0 |
| Video camera | | 4.5 |
| Software | | 4.5 |
| Benchmark performance | | 5.0 |
| Coolness | | 4.5 |
B
I think it's a great phone, I had it since 2016 and it still works perfectly
O
Never buy HTC M10 is garbage . I have given for repair 2 times in a year. Now it's totally gone .
D
I had the same problem. And had to go to the seller and replace the phone with a new one.