The HTC Aero has been a constant presence among mobile world rumors for around two months. That said, we've never actually seen it before in live images.
Yet thanks to a leak originating in China, we can do just that now. What you see below is said to be the upcoming HTC flagship smartphone, the one that's supposed to turn the tide for the struggling Taiwanese company.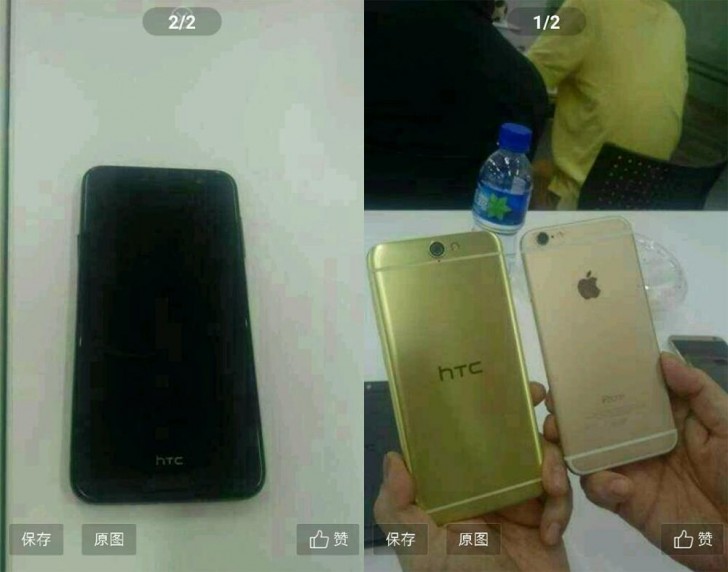 And it looks almost exactly like an iPhone. HTC probably only decided to put the camera dead center on the phone's back in order to (hopefully) avoid a lawsuit from Apple. Had it not done that, it would have been almost impossible to tell this handset and an iPhone apart, at least when looking at their backs.
On the front fascia, things are a bit different, and the prominent HTC logo helps too. The HTC Aero has been rumored to be marketed as the HTC A9 when it launches later this year.
We get no new leaked specs this time around, but previously outed ones include a QHD touchscreen with Gorilla Glass 4 and 2.5D curved edges, as well as a rear camera with f/1.9 aperture. The A9 should be launched in the US by AT&T and Sprint (at least). It's due to be announced in October and will hit the streets in November.
?
Not true. The iPhone 5S looked similar to M7, but the design was completely different. For a start, m7 had stereo speakers, while 5s didn't have. M7 had a curved body, while 5s was a rectangular slab. Also, do you notice that there are no stereo spea...
?
People who are telling this phone doesn't look like iPhone are blind HTC fanboys. This phone looks NO WAY similar to M7. It looks like an exact iPhone 6S ripoff. That's the truth, fanboys. Accept it. But HTC shouldn't have done this. They should have...
D
Hello... Do you know when is the first iPhone released? 2007! It's the first phone by Apple Right? OK, When HTC first phone released? It's far way before 2007 ! Do you know, before they name it their device HTC, there is another name. It's ...