We love this phonebook
HTC Aria features the same powerful phonebook we first saw on the Hero. It resembles the one from the HTC TouchFLO but considerably extends its functionality.
Selecting a contact displays the basic details: name and photo, numbers, emails and such. What you'd notice though is that there are another five tabs at the bottom and you're just viewing the first tab.
The next tab holds the text messages received from the contact – it would have been a lot more useful if it held the entire conversation, but for that you'd have to go to the full-fledged Messaging app.
The third tab holds a list of emails you've exchanged with the contact. The next two tabs are quite interesting and can turn the Aria (or in fact any phone running the Sense UI) into a powerful social networking tool.
The first holds Facebook contact updates, and the other called "Albums" pulls the albums that contacts have created on Flickr and Facebook.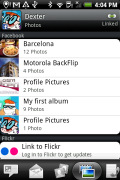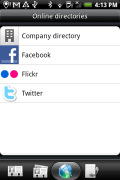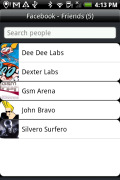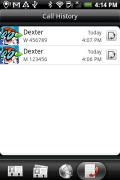 Facebook updates • Facebook and Flickr albums • call history
The final tab shows the call history for the contact.
The entire People app (the phonebook) is tabbed too and with more tabs than the stock Android. You have all contacts, groups (including favorite contacts there), as well as a call log and "Online directories". The latter holds information for all your buddies' online profiles.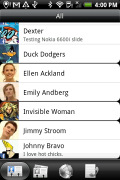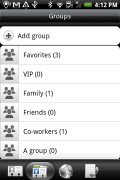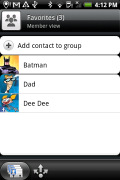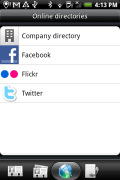 Phonebook • favorite contacts • groups • online directories
The contact editing screen features no plus key to add a new detail of a certain type, just a delete detail key. This saves some space (one line per each category) but you have to scroll down to the bottom every time you want to add a new detail.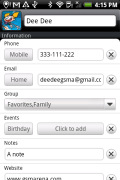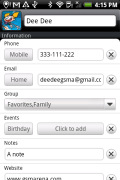 Editing a contact • cropping a photo
There is a lot of information you can store per contact as usual, and searching the phonebook is very easy – just press the search button.
Excellent telephony
We experienced no voice quality and reception issues with the HTC Aria.
The on-screen dialer features a keypad, a shortcut to the call log and a list of contacts beneath (you can hide the keypad). Smart Dialing is also enabled.
Thanks to the built-in accelerometer, turn-to-mute also works like a charm. You can mute the ringer by simply turning the phone face down on the table.
The call log shows the latest dialed, received and missed calls all in one.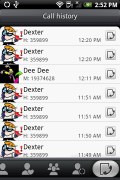 The call log holds incoming, outgoing and missed calls
Voice dialing is not enabled on The HTC Aria.
We ran our traditional loudspeaker test and the HTC Aria scored an excellent mark. Here is how it ranks among some other handsets we've tested.
| | | | | |
| --- | --- | --- | --- | --- |
| Speakerphone test | Voice, dB | Pink noise/ Music, dB | Ringing phone, dB | Overall score |
| Apple iPhone 4 | 65.1 | 60.3 | 66.2 | Below Average |
| HTC Wildfire | 74.3 | 66.6 | 75.7 | Good |
| Google Nexus One | 69.9 | 66.6 | 79.1 | Good |
| HTC Hero | 76.7 | 71.9 | 77.7 | Very Good |
| HTC HD2 | 75.7 | 72.8 | 78.0 | Very Good |
| HTC Legend | 78.0 | 74.3 | 79.7 | Excellent |
| HTC Aria | 74.9 | 74.8 | 83.8 | Excellent |