Very good audio quality
Starting with this review we are making the two-audio-quality-tests per device a part of our regular reviewing routine. We will publish two rows of data for each handset, which would include the performance of the device when plugged into an active amplifier (i.e. your car stereo or your home audio system). It's the best the handsets can deliver as there is no additional resistance they have to deal with. The other row shows the performance when a pair of headphones is plugged. We use a pair of AKG headphones with impedance of 32 ohms for this test.
As you can see the HTC Aria did greatly in our test and its audio quality deteriorated very slightly when headphones were attached. The stereo crosstalk reading took the biggest hit but the noise level, dynamic range and frequency response of the device remained great. The distortions levels were also nothing to frown at, even though they aren't the best we have seen.
Check out the table and see for yourself.
| | | | | | | |
| --- | --- | --- | --- | --- | --- | --- |
| Test | Frequency response | Noise level | Dynamic range | THD | IMD + Noise | Stereo crosstalk |
| HTC Aria | +0.12, -0.58 | -84.5 | 86.9 | 0.022 | 0.172 | -85.4 |
| HTC Aria (headphones attached) | +0.37, -0.15 | -87.0 | 90.4 | 0.026 | 0.400 | -52.3 |
| HTC HD mini | +0.15, -0.68 | -83.7 | 86.7 | 0.024 | 0.158 | -84.1 |
| HTC Legend | +0.13 -0.56 | -83.4 | 86.5 | 0.024 | 0.191 | -83.5 |
| Samsung I5700 Galaxy Spica | +0.26 -3.47 | -88.6 | 88.5 | 0.011 | 0.774 | -80.2 |
| Apple iPhone 4 | +0.01, -0.07 | -90.5 | 90.6 | 0.0041 | 0.011 | -92.0 |
| Samsung I9000 Galaxy S | +0.03 -0.04 | -90.7 | 90.6 | 0.014 | 0.019 | -90.6 |
| Apple iPhone 4 (headphones attached) | +0.01, -0.07 | -90.4 | 90.4 | 0.0036 | 0.092 | -68.4 |
| Samsung I9000 Galaxy S (headphones attached) | +0.40 -0.12 | -90.7 | 90.6 | 0.018 | 0.329 | -43.3 |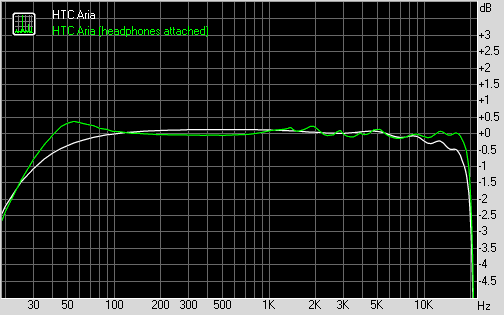 HTC Aria frequency response
Excellent 5 megapixel snapper
The HTC Aria is equipped with a 5 megapixel camera for a maximum image resolution of 2592 x 1936 pixels. While premium Android handsets are already on the 8MP notch, the HTC Aria is content with a spot in the middle.
With Android 2.1 inside, the HTC Aria also has a camera interface that can be competitive outside the Google OS world. There are a number of customizable settings ranging from ISO speed to aspect ratio and auto focus.
We are also pleased to see face detection on board, though some other modern-day features are yet to come such as smile and blink detection.
The camera interface isn't the ultimate in user-friendliness, with most of the options sitting on a retractable tray at the left side of the viewfinder. It can either be dragged out by a finger sweep or by pressing the menu key.
You get shortcuts to exposure compensation and the camera album right in the viewfinder but that's all.
The actual shooting isn't quite as comfortable as we would've liked – mostly for the lack of a proper shutter key. Continuous auto-focus seems to take its time – each time you reframe you have to wait a bit longer than we'd expect for the device to focus. Touch focus on the other hand seems to work well, but it's potentially affected by the shaky hand issue.
It seems they could've put the optical trackpad to better use – touch to lock focus, press down to capture – but in the end, nothing would replace an actual two-press shutter key.
The image quality of the HTC Aria is not that great. Perhaps it's on the better side of the spectrum as far as HTC reach, but it's still way worse than the best 5 megapixel cameraphones we've seen.
Colors turn out natural but suffer from low detail and relatively high level of digital noise in the uniform surfaces such as the sky. Let's just say the HTC Aria camera performance is equal to that of HTC Legend and HTC HD mini. The now elderly HTC Diamond2 remains the best cameraphone we've seen from HTC.
You can see how good the camera is from the samples below.
Synthetic resolution
We also snapped our resolution chart with the Aria. You can check out what that test is all about here.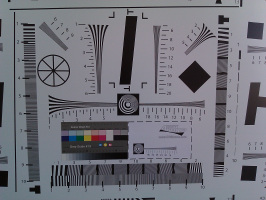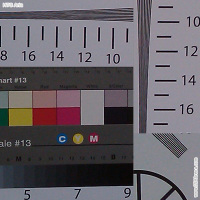 HTC Aria resolution chart photo • 100% crops
VGA video
HTC Aria manages VGA videos at 30 fps, which is quite good for a mid-range Android handset.
The interface of the camcorder is similar to the one on the still camera and there are lots of customizable options with this one. You can set the video resolution, encoding type and recording limit.
As far as image settings go, you get exposure compensation, contrast, saturation and sharpness, as well as color effects and white balance settings.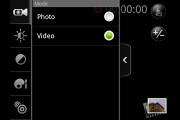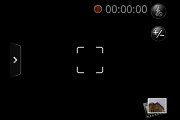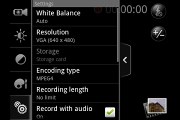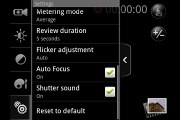 Camcorder has plenty of options
Auto focus is also there for you to enable but the Aria only focuses before the recording starts and acts as a fixed focus camera after that.
Video quality is decent at the finest settings with good amount of resolved detail and nice colors however they could have been slightly sharper.
Here goes a sample VGA@30fps video clip.